Report Explores Ways to Reserve Pell Grant Funds for Low-Income Students
By Joelle Fredman, NASFAA Staff Reporter
While Pell Grants were originally intended to be a resource for the lowest-income students, more students from middle-income families are becoming eligible to receive aid through the federal program, according to a new report from the American Enterprise Institute (AEI). In order to prevent this "mission creep," the report offers several ways to limit the program to low-income students, from instituting an income cutoff to restricting eligibility to students with a zero Expected Family Contribution (EFC).
The authors of the report—AEI resident fellow Jason Delisle and research associate Cody Christensen—wrote that more students from families making between $50,000 and $60,000 are receiving Pell Grants because, since 1995-96, the maximum Pell Grant award is rising faster than inflation, and the gap between the maximum award amount and students' EFCs is growing. In fact, in today's dollars, while only 24% of families that filed the FAFSA and earned between $50,000 and $60,000 qualified for the grant in 1995, that figure increased to 60% in 2015, according to data from the National Postsecondary Student Aid Study (NPSAS).
"Over the past 20 years, increases to the maximum Pell Grant have quietly and unintentionally caused the program to creep further into middle-income territory," the authors wrote. "In the mid-1990s, students from families earning the equivalent of $50,000 in today's dollars typically would not qualify for Pell Grants. Today, these students can each expect to receive a $2,890 annual grant. This change occurred largely without any identifiable agenda to provide Pell Grants to families at these income levels."
Delisle and Christensen examined the growth of the Pell Grant program between the 1995-96 and 2018-19 academic years—in which the maximum award grew by $2,646 after adjusting for inflation—because 1995 was the earliest year for which they could find Department of Education (ED) worksheets to calculate Pell Grant eligibility. Notably, 1995-96 was also the year in which the maximum award was at one of its lowest points since it was created in the early 1970s. While it is true that between 1995-96 and 2017-18, the maximum award on average grew at a higher rate than inflation, between 1975-76 and 1995-96, the amount dipped below the rate of inflation. In fact, the maximum award amount today ($6,195) has only just begun to return to 1975 levels when adjusted for inflation, as detailed in a letter NASFAA wrote to Congress regarding funding for fiscal year (FY) 2020. The authors wrote in a footnote in the report that if they used EFC worksheets from the years prior to 1995-96, their "main finding still holds, although it is slightly less pronounced."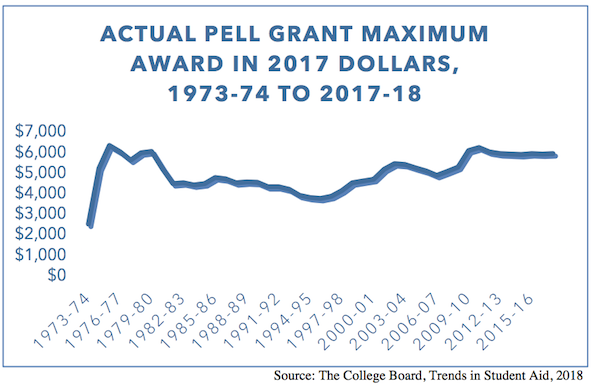 If Congress had tied the maximum award amount to inflation year over year since 1975, the amount would be $6,655 for FY 2020. NASFAA requested in the letter that Congress support discretionary funding for the program at a level to ensure a maximum award of at least this amount for the upcoming year.
Delisle and Christensen wrote that "one of the best solutions" to ensure that Pell Grants remain targeted at low-income students is to implement an absolute income cutoff tied to inflation, where families earning above a certain amount would be ineligible for the grant.
"In addition to being one of the most straightforward solutions, an income cap is more transparent to families than the existing formula based on EFC and the maximum grant because it is easier for them to know whether they qualify," they wrote.
The authors warned, however, that one downside to this approach is that it would ignore family size and the number of students a family has enrolled in college—which often results in a student being assigned a lower EFC. To account for family size, the authors wrote that lawmakers could instead limit the program to students with a zero EFC, or designate an EFC cutoff. The authors calculated that a cutoff at a $2,500 EFC would make students from families making $50,000 or more ineligible.
Alternatively, the authors suggested tying the maximum Pell Grant award to a broad index, such as the Consumer Price Index for All Urban Consumers (CPI-U)—which was the practice between FY 2014 and FY 2017. They warned, however, that if "college prices continue to rise more quickly than broad measures of inflation, however, policymakers will face political pressure to increase the Pell Grant accordingly, thus undermining this approach."
As Congress works toward reauthorizing the Higher Education Act (HEA), the authors wrote that lawmakers should consider whether this is a path the program should continue on.
"Perhaps the most striking thing about this change is that it occurred without any discussion about whether policymakers intended it to happen—or whether it is good policy at all," they wrote. "It is difficult, if not impossible, to find lawmakers who argue for increases to the Pell Grant on the grounds that it will allow more middle-income families to qualify for larger grants. Yet that is the effect of increasing the maximum grant more quickly than inflation. We ask lawmakers to consider whether that should be the effect."
Publication Date: 7/17/2019
---