NASFAA's Inaugural Diversity Leadership Program Class Reflects on Their Term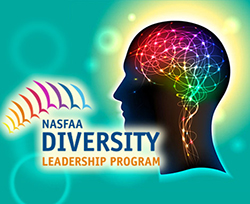 NASFAA last year unveiled a new program to celebrate diversity in higher education and help financial aid professionals from all different backgrounds grow and establish themselves as leaders in the field. As part of the initiative—NASFAA's Diversity Leadership Program (DLP)—selected members received a complimentary registration to both NASFAA's National Conference and Leadership & Legislative Conference & Expo, a voucher for a NASFAA U course, and a seat on a NASFAA task force. They were also assigned a mentor who previously served on NASFAA's Board of Directors.
Hear from a few members of the DLP inaugural class as they reflect on their term—which concluded at the end of June—and share advice for others interested in applying for the program. Keep an eye out for announcements in Today's News this fall once the application becomes available.
Christina Tangalakis, Associate Dean of Financial Aid at Glendale Community College

The DLP has been a great opportunity for me to engage further with the financial aid community at the state and national level. I took advantage of each opportunity to make sure I benefited from all that was offered to me; I took the NASFAA U course on non-standard terms, attended the Leadership & Legislative Conference & Expo and the 2019 National Conference in Orlando, and I am also participating in my regional association.
Apply! And put your best effort into your application. Once you are chosen, make the decision to fully engage in the opportunities it affords. The year goes by quickly, so pace yourself to get the most out of it.
Christopher Pollard, Assistant Director of Financial Aid at the George Washington University Law School
This program provided me with the tools and experience needed to support my growth and become a leader within my state association. This program is a great opportunity for professional development and encourages diversity efforts within the association, on all levels. My favorite experience of the program was the Leadership & Legislative Conference & Expo. In particular, the Association Management pathway taught me a lot about the inner workings of the local, regional, and national associations for student financial aid administrators.
A touching moment for me during the program was the awards ceremony at the National Conference. Some of the individuals being recognized have been in the field for 25 or more years, which is a career goal I aspire to. Witnessing these recipients be awarded for their tireless efforts in providing equal access to higher education in their career was very encouraging.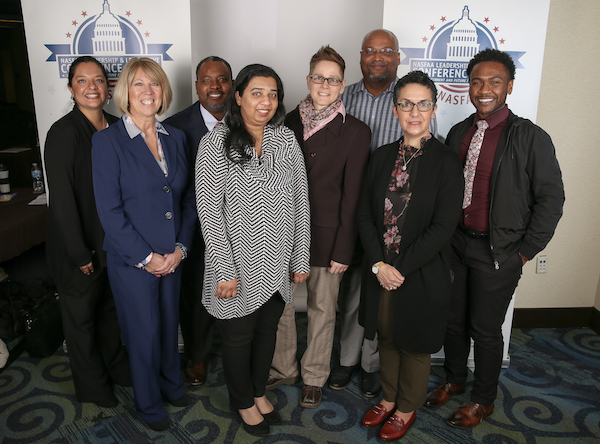 Kelly Carrell, Associate Director of Processing and Verification at the University of Iowa
Throughout this whole program, it has been clear that NASFAA is taking action and walking the talk of making sure that everyone is seen and heard. They recognize that the oppression of marginalized groups has a profound impact on an individual's access to advancing into leadership roles. My favorite experience was the Leadership & Legislative Conference & Expo; more specifically as it related to the Capitol Hill visits. I actually left with the feeling of having my finger on the pulse of how change occurs via the connections we make and the influence we have on our legislative branch.
NASFAA makes this particular opportunity financially assessable since they fund the trips/conferences. Our employers only have to be open to giving us the time out of office. I would like to thank the leadership at The University of Iowa's Office of Financial Aid for allowing me the resources and time to commit to the DLP program. Without their support, encouragement, and flexibility with my time, this opportunity would not have been possible.
Sylvia Martinez, Associate Director of Client Services at Colorado State University
I loved DLP! The program offers a great opportunity for growth both personally and professionally. I met some amazing individuals, including my mentor, Jim Brooks (NASFAA's first diversity officer), and the rest of the DLP cohort. I have so much respect for my DLP classmates—they are such amazing examples of what a truly well-rounded financial aid professional should represent.
(Photo, from left to right: Sylvia Martinez, 2018-19 National Chair Lori Vedder, NASFAA Diversity Chair Craig Slaughter, Samreen Khurram, Kelly Carrell, Dameion Lovett, Christina Tangalakis, Christopher Pollard)
Publication Date: 7/30/2019
---