CFPB Launches Beta Tool to Help Students Compare School Costs
The Consumer Financial Protection Bureau (CFPB) announced the next phase of its "Know Before You Owe" student loan project by releasing a beta version of the "Financial Aid Comparison Shopper," an interactive, online tool designed to help students and families compare the costs of post-secondary education at various institutions.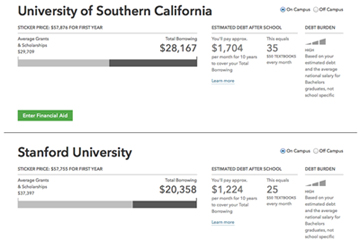 The CFPB calls this beta version a "thought starter" and says it is just the first step in  developing a tool to help students and families make informed higher education decisions.
"Your feedback is an important part of this process, and we know that we have a ways to go in order to come up with a great product," CFPB states on its website.
Initial testing by NASFAA staff has uncovered several opportunities to improve this tool and we plan to submit comments, questions and concerns to CFPB once we have tested the tool sufficiently. In addition, NASFAA's Award Notification and Consumer Information Task Force is finalizing recommendations for improving financial aid award letters and consumer information. These recommendations will help shape our advocacy efforts on this issue. 
In a press release, CFPB said that financial aid information is often jargon-filled and unique to specific institutions making it difficult for families to understand costs, evaluate loan options, and figure out how much debt to incur.
"Our Financial Aid Comparison Shopper helps students make apples to apples comparisons of their offers and pick the one that works best for their financial future," said CFPB Director Richard Cordray in the press release.
The beta version of the Financial Aid Comparison Shopper has more than 7,500 schools and institutions in its database, including vocational schools and community, state, and private colleges. It uses information from publicly available data provided by government statistical agencies. The tool is designed to allow students and their families to compare:
Estimated monthly student loan payment after graduation;
Grant and scholarship offers;
School-specific metrics such as graduation, retention, and federal student loan default rates; and
Estimated debt level at graduation in relationship to the average starting salary.
The tool also includes a "Military Benefit Calculator" that can estimate education benefits for servicemembers, veterans, and their families. The calculator includes military tuition assistance and Post-9/11 GI Bill benefits.
Publication Date: 4/12/2012