Angel's Angle: Goodbye, NASFAA!

Hello everyone! Today marks my final day as NASFAA's 2015 DME Policy Intern. Although my time in the NASFAA office may be up, I'm excited because I still have one last opportunity to share all the incredible experiences I've had this past week with you. What made my last week so great was that I spent a considerable amount of time networking and making connections outside of the NASFAA office. In addition to meeting more financial aid administrators at nearby universities and colleges, I also had the privilege of meeting staff members from both the Federal Student Aid (FSA) office and Office of Postsecondary Education (OPE) of the Department of Education (ED). This was definitely on my list of my top five most memorable experiences I've had while interning for NASFAA.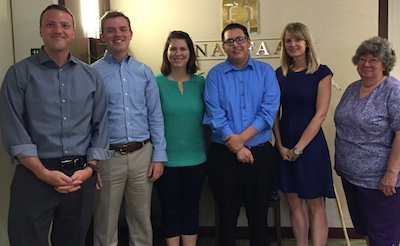 It was such a great (and shocking) feeling to hear the people at ED say they enjoy reading my blog and hearing all about my adventures in D.C. I got some really valuable pieces of advice and was able to hear some really interesting stories from people that have worked at ED for several years. By far, my favorite moment was speaking with a couple people who currently work or worked as program reviewers for institutions that participate in the Title IV federal student financial assistance programs. Getting to speak with people from ED who had the exact same interests in financial aid as me when they too were starting out, and were successful in turning it into a career, was both inspiring and encouraging. After speaking with one gentleman in particular who previously conducted program reviews at ED, he shared some advice that I hope to always remember.
He told me to never stop learning and researching what interests me the most about financial aid. He stressed to me that while it's good to have a broad understanding of the federal student aid programs, I should try to focus my attention and specialize in a specific area. People will start to notice your interests and passion on that specific topic, and as a result, it will give you an outlet to showcase your knowledge and expertise on the subject, he further added. For him, it was his knowledge on Satisfactory Academic Progress and Return of Title IV funds. I will certainly use his advice and focus on applying my attention and efforts to becoming proficient on one topic at a time. This will make trying to learn everything about federal student aid and higher education seem less daunting and more manageable.
Over the course of my time here you all have learned so much about my journey and read about all of the remarkable experiences that I've had, but for my last blog I wanted to shift the focus off of me for a bit and thank a few key people who really are responsible for making my internship here so amazing.
I owe my experience as NASFAA's intern, to the Dallas Martin Endowment supporters. I had the opportunity to be here because they see the importance in developing a new generation of financial aid advocates and administrators. Because of their vision, I was given the chance to experience the world of financial aid and higher education firsthand in our nation's capital.
I want to thank the NASFAA Staff, particularly the policy and advocacy team, who were so incredibly kind and helpful as I worked this summer to discover how my skills and interests in financial aid/higher education fit in with my career goals. Long after my time here is up, these are the things that I will always remember about interning at NASFAA.
I especially want to thank my supervisors: Megan McClean and Charlotte Etier. Megan has been such a guiding light during my journey and time here at NASFAA. The passion and energy that she puts forth in her work inspires me to work just as hard as she does. And I can't thank Charlotte enough for devoting a huge part of her summer to guiding and mentoring me as an intern. As a previous DME intern, Charlotte could identify with me on the things that I was experiencing and could also share in my excitement.
While writing my final blog it suddenly hit me how surreal these past three months have been. I still remember getting a call from a Washington, D.C phone number while I was working in the financial aid office, running outside to answer it, and hearing from my soon-to-be supervisor Charlotte telling me that NASFAA had selected me as the 2015 DME Policy Intern. The same emotions and feelings that ran through me that day are the exact same that I'm experiencing now after realizing all of the incredible experiences that I've had during my time here. In my very first blog I shared with you my personal philosophy that knowledge is not power, but rather applied knowledge is power. As I leave NASFAA today, I look forward to the many opportunities I have in my future to share as much as I can about the things I did, the people I've met, and the relationships that I've made during my time at NASFAA.
In closing, I thank those of you immensely who have followed along on my journey with me. It's an indescribable feeling knowing that someone other than myself actually reads these blogs (and enjoys reading them!).
Sincerely,
Angel
Publication Date: 8/14/2015
---