NASFAA Members Visit House Appropriators
By Jesse O'Connell, Policy and Federal Relations Staff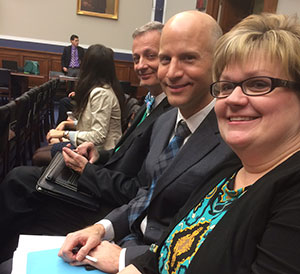 With federal budget season in full swing, several NASFAA members visited with congressional policymakers yesterday to stress the importance of continuing to invest in federal student aid programs. Heather Boutell (Bellarmine University), Andrew Hammontree (Francis Tuttle Technology Center), and Kim Jenerette (Cedarville University) were in D.C. participating in NASFAA's Advocacy Pipeline – an opportunity to join NASFAA staff and visit Capitol Hill. They shared their campus-level perspective on the critical importance of not freezing the maximum Pell Grant, a timely issue in light of yesterday's news regarding the FY16 Budget proposal from House Republicans. They also discussed funding for the campus-based aid programs, eliminating loan origination fees, and the administrative ability to limit loans, among other issues. The group met with staffers in the offices of three lawmakers: Rep. Hal Rogers (R-KY), Rep. Tom Cole (R-OK), and Rep. Marcia Fudge (D-OH). 
Freezing the maximum Pell Grant will start to hurt students on campuses where they may not have access to other resources like student loans, explained Hammontree. His institution doesn't participate in the federal loan program, and despite the low overall cost of his programs, the erosion in Pell purchasing power that would result from a freeze in the maximum award would absolutely impact the persistence of many students with whom he works. 
In addition to advocating for Pell funding, NASFAA members stressed the need to continue to support the campus-based programs. Coming out of a fiscal year in which these programs were level-funded, any cut to these programs would further impair the important flexibility these programs provide to aid administrators, as well as helping students create meaningful ties to their campus communities.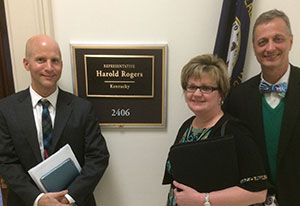 "Work-study is such a huge piece of our campus," said Boutell. "It gives us skin in the game." Work-study jobs can even lead to lasting careers, explained Hammontree who was himself once a work-study student in a financial aid office.
"The more I'm involved with NASFAA, the more I have my finger on the pulse and believe I am empowered to assist my students, families, and constituents," said Jenerette. "I highly recommend this to my colleagues."
"As a financial aid administrator, I feel I have a responsibility to advocate for the programs that help our students to obtain a post-secondary education," said Hammontree. "Legislators need to hear the voice of the financial aid community--people who deal directly with the consequences of the decisions the legislators make."
Added Boutell, "I enjoyed traveling to D.C. to share my issues and passion about financial aid.  When you're walking the halls outside Congressional offices, it's truly a 'wow,' patriotic moment!"  
The Hill visits were part of NASFAA's ongoing advocacy effort, the Advocacy Pipeline, designed to bring NASFAA's elected leaders and other members to D.C. to share on-the-ground perspectives with policymakers. In the coming months, additional NASFAA members will come to Washington in small groups to participate in direct advocacy with Congressional offices. 
To learn how you can become involved please email policy@nasfaa.org and visit www.nasfaa.org/advocacy for more information on NASFAA policy and advocacy efforts.
Publication Date: 3/18/2015