Student Aid Funding Takes Center Stage as NASFAA Members Visit the Hill
By Jesse O'Connell, Policy and Federal Relations Staff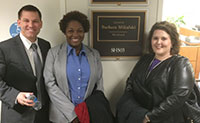 Three NASFAA members headed to Capitol Hill Thursday to advocate for funding for federal student programs. Megan Smith (Mississippi University for Women), Aristea Williams (Johns Hopkins University School of Education), and Ben Kohl (Kansas State University) were in D.C. participating in NASFAA's Advocacy Pipeline – an opportunity to join NASFAA staff and meet with congressional staffers. They shared their campus-level perspective on the critical importance of fully funding the Pell Grant and the campus-based aid programs during the upcoming federal budget process, in addition to answering questions about simplifying the FAFSA, switching to the use of prior-prior year income on the Free Application for Federal Student Aid (FAFSA), eliminating loan origination fees, and administrative ability to limit loans. The group met with staffers in the offices of three senators on the Senate Committee on Appropriations: Sen. Thad Cochrane (R-MS), Sen. Barbara Mikulski (D-MD), and Sen. Jerry Moran (R-KS).
With the recent release of President Obama's FY16 budget request, the budget and appropriations season has officially kicked off on the Hill. With senators on the Budget and Appropriations committees beginning to consider and work on funding levels for the federal student aid programs, this was a crucial time to get in front of their staff and provide necessary information about the importance and value of these programs. Our members stressed the responsibility Congress has to continue to fully fund Pell, and also emphasized the necessity of avoiding cuts to the campus-based programs. In explaining that the campus-based programs were level-funded both in FY2015 (program year 15-16) and in the president's FY2016 budget request, our members also reminded each of the offices that they met with that these programs provide important flexibility to financial aid offices and allow students to build deeper relationships with their campus communities.
NASFAA members also shared and highlighted the recent work of the Servicing Issues Task Force, stressing to these congressional offices the importance of fairness and equity for students in servicing practices, along with the need

to create a single central loan portal where students can manage all of their loans and for the Department of Education (ED) to provide standard consumer protections that are in line with other consumer financial products.
A few offices asked for input on recent proposals to simplify the FAFSA, such as the two-question "postcard" FAFSA from Senate Health, Education, Labor and Pensions (HELP) Committee Chairman Sen. Alexander (R-TN), and President Obama's own proposal to trim about 30 questions from the current version of the federal aid application. Kansas State's Kohl said that he was in favor of simplification, but that lawmakers need to be careful to avoid over simplification which might cause institutions or states to develop their own forms. A better solution than trimming questions may be to find a way to ensure greater use of the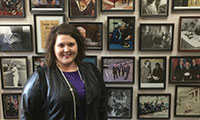 Data Retrieval Tool (IRS-DRT) in concert with the skip-logic that already exists in the online FAFSA.
There is still a sense of momentum on the Hill around ways to modernize and strengthen the Pell Grant Program, particularly through a return to making the award available on a year-round basis. Such a change would benefit students in Mississippi according to Smith, as it would reduce the need for them to stop-out due to disruptions in funding and potentially limit reliance on student loans.
"As a NASFAA member, it was empowering to experience first hand what the association's staff does on a regular basis on Capitol Hill," Smith said. "Many times we look at the smaller spectrum within our state and region, and we forego the 'bigger picture'. Having the opportunity to converse with administrators across the US while advocating for the same causes within our respective states was a very rewarding opportunity."


"It was a great honor and privilege to help represent NASFAA, the higher education financial aid community, and the state of Kansas through the NASFAA Advocacy Pipeline," Kohl added. "I thought the conversations with the Senators' staff members were very engaging and productive. I thoroughly enjoyed the experience of representing NASFAA, Kansas State University, and the financial aid community of Kansas on Capitol Hill."
Added Williams, "I found the staffers to be engaged- us being financial aid administrators from their states really helped to break the ice. I believe that the staffers we spoke with now have a better view of how their decisions regarding appropriations impact students."
The Hill visits were part of NASFAA's ongoing advocacy effort, the Advocacy Pipeline, designed to bring NASFAA's elected leaders and other members to D.C. to share on-the-ground perspectives with policymakers. In the coming months, additional NASFAA members will come to Washington in small groups to participate in direct advocacy with Congressional offices.
To learn how you can become involved please email policy@nasfaa.org and visit www.nasfaa.org/advocacy for more information on NASFAA policy and advocacy efforts.
Publication Date: 2/13/2015