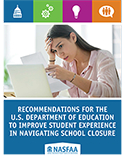 As a response to the April 2015 closure of Corinthian Colleges, NASFAA collaborated with other organizations to assist students whose college or career school closed while they were attending, or shortly after they withdrew. With the help of grant funding, a ticketing website, and a working group comprised of NASFAA member volunteers, NASFAA has been able to assist more than 6,000 students from more than 30 closed institutions across the country with questions on their eligibility for closed school federal loan discharge, borrower defense to repayment, Pell Grant restoration, and other financial aid-related questions.
After reflecting on both successes and challenges that students have faced while navigating school closures, the working group and NASFAA's policy and research department, has developed five recommendations for the Department of Education to improve the experience for students navigating school closures.
Recommendation #1: Proactively notify students of their eligibility and inform them of steps to initiate the process of closed school federal loan discharge.
Recommendation #2: Provide clearer, more consistent assistance to students in need of obtaining their academic transcripts, diplomas, and certificates.
Recommendation #3: Create a more streamlined system for checking statuses of closed school federal loan discharge and borrower defense to repayment applications.
Recommendation #4: Provide personal, one-on-one counseling services for students.
Recommendation #5: Require consumer testing of all materials.
The working group will complete their work at the end of December 2018. This report is intended to shed light on some of the experiences students still face years after their schools have closed.