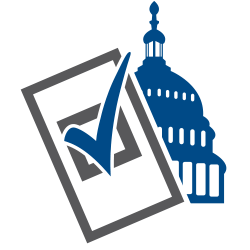 On this page, you'll find proposals to streamline or modify the federal financial aid application process.
For FAFSA simplification proposals from the previous session of Congress, visit the Legislative Tracker Archive: FAFSA Simplification.
*NEW*

Higher Education Access and Success for Homeless and Foster Youth Act

HR 3740
Sponsor:
Rep. Clark (D-MA)
Co-Sponsors:
5 (1 R; 4 D)
Introduced:
9/12/2017
S. 1795
Sponsor:
Sen. Murray (D-WA)
Co-Sponsors:
1 (1 R; 0 D)
Introduced:
9/12/2017

NASFAA Analysis & Coverage: This bill seeks to resolve a number of issues that continue to pose barriers to higher education for unaccompanied youths who are either homeless or self-supporting and at risk of homelessness.

Reduce Barriers to College Act

HR 3516
Sponsor:
Rep. Veasey (D-TX)
Co-Sponsors:
11 (0 R; 11 D)
Introduced:
7/27/2017

NASFAA Analysis & Coverage: This bill aims to make the process of obtaining a verification of non-filing (VONF) letter easier by allowing students and parents to upload documents such as household utility bills, student transcripts, and bank account statements as a way to authenticate and complete the online VONF request process. The IRS would also be required to respond to all VONF requests within 10 business days.

FAFSA Translation Act

HR 3082
Sponsor:
Rep. Meng (D-CA)
Co-Sponsors:
2 (0 R; 2 D)
Introduced:
6/27/2017
NASFAA Analysis & Coverage: The bill would require the Department of Education to translate the FAFSA into not fewer than 11 foreign languages, to be determined by the Secretary, and available in paper and on the web.

Equitable Student Aid Access Act

HR 2015
Sponsor:
Rep. Doggett (D-TX)
Co-Sponsors:
79 (0 R; 79 D)
Introduced:
4/6/2017

NASFAA Analysis & Coverage: The bill would add receipt of a federal means-tested benefits program (such as SSI, SNAP, and Medicaid) as a sole qualifier for an auto-zero expected family contribution (EFC) determination. This change would allow students and families who have already demonstrated high need to automatically qualify for maximum federal student aid, thereby reducing the FAFSA to personal identity and non-income eligibility questions. In addition, the bill codifies the Early FAFSA and use of prior-prior year (PPY) tax information put into place by former President Barrack Obama via executive action in fall 2015, ensuring that students will continue to be able submit their federal financial aid application for the coming school year in October rather than in January using data financial data filed with the IRS two years prior.

SUCCESS Act

HR 1432
Sponsor:
Rep. Bass (D-CA)
Co-Sponsors:
5 (1 R; 4 D)
Introduced:
3/8/2017
NASFAA Analysis & Coverage: The Stopping Unfair Collateral Consequences from Ending Student Success (SUCCESS) Act repeals the suspension of eligibility for drug-related offenses provision in the Higher Education Act and prohibits the U.S. Department of Education from asking federal financial aid applicants if they have been convicted of a drug offense.