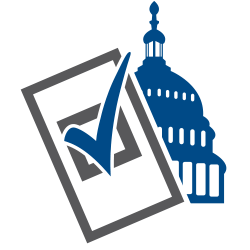 On this page, you'll find proposals to streamline or modify the federal financial aid application process.
Sponsor: Rep. Keller [R-PA]
Cosponsors: 0
Introduced: 10/28/2021
NASFAA Summary & Analysis: This bill would expand Pell eligibility to include short-term occupational programs. Under this bill, students who attend programs that are "150 clock hours of instruction, four semester hours, or six quarter hours, offered during a minimum of eight weeks" and that provide training aligned with high-skill, in-demand industry jobs would be eligible for Pell grant funds assuming they meet all other eligibility requirements.
H.R.5739 — Unnamed at Time of Publishing
Sponsor: Rep. Morelle [D-NY]
Cosponsors: 0
Introduced: 10/26/2021
NASFAA Summary & Analysis: This bill would allow students with disabilities who are otherwise eligible for the Pell Grant to receive an amount based on a full-time attendance status, regardless of their actual attendance status. The bill would also allow these students to exceed the current 12 semester limit that students are able to receive Pell Grant funds for if required by the students' accommodations to complete their undergraduate program.

S.1440 — FAFSA Simplification Technical Corrections Act
Sponsor: Sen. Hassan [D-NH]
Cosponsors: 1
Introduced: 04/28/2021
NASFAA Summary & Analysis: This bill will make technical corrections to the FAFSA Simplification Act which was signed into law in December of 2020 as part of the Consolidated Appropriations Act, 2021. One of the changes is to the Cost of Attendance (COA) in which the original language required institutions to include the exact origination fee amounts in a student's COA, this technical amendment would only require an average cost.
H.R.1536 — Improving College Affordability for our Guard and Reserve Act
Sponsor: Rep. Reschenthaler [R-PA]
Cosponsors: 6
Introduced: 03/03/2021
NASFAA Summary & Analysis: This bill would include all members of the Armed Forces, including veteran and National Guard or Reserve service members, in the definition of an independent student for FAFSA and federal financial aid purposes.
Legislative Tracker Overview | Archive: FAFSA Simplification