NASFAA Members To Lawmakers: End Origination Fees
By Jesse O'Connell, Policy and Federal Relations Staff 
Members of the Graduate and Professional Issues task force brought a message to Capitol Hill yesterday: loan origination fees are administratively burdensome and represent a tax on students, along with other critical higher education issues pertinent to the graduate and professional community. These remarks came as part of the latest Advocacy Pipeline event, participants of which included Mary Fenton (University of New Mexico), Bob Coughlin (Harvard Medical School), Deidra Cummings (Lipscomb University), John Garcia (Michigan State University College of Law), Emily Osborn (Northwestern University, Chicago), Margaret Rodriguez (University of Michigan), Joseph Sanchez (University of North Texas Health Science Center), and Meredith Schor (George Washington University School of Medicine).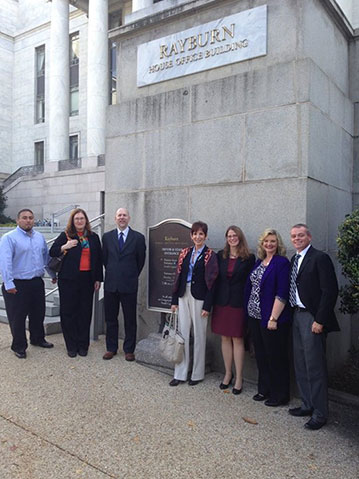 The group met with staffers in the offices of five policymakers on the House Committee on Education and the Workforce: Rep. Dave Loebsack (D-IA), Rep. Mike Kelly (R-PA), Rep. Tim Walberg (R-MI), Rep. Caroline McCarthy (D-NY), and Rep. Matt Salmon (R-AZ). In each office the discussion focused on the aforementioned repeal of loan origination fees in addition to sharing information about work on a recent NASFAA task force report on public service loan forgiveness. 
By and large, the staffers seemed receptive to the concerns about loan fees and interested in learning more about the legislation recently introduced by Rep. Susan Davis. NASFAA members shared feedback on the frustrating burden of incremental changes to loan origination fees as a result of sequestration, how loan fees leave gaps in planned student budgets, and the lack of transparency that results from the fees. They further explained how the origination fees often make federal loans compare unfavorably with private loans, which makes it more difficult for an administrator to advocate for the benefits and protections provided by federal loans.
Additionally, members advocated for the public service loan forgiveness program. "The program promotes diversity by giving financial security to those that desire to help others," said Schor. Michigan State's Garcia added "our students have uncertainty about the program, it's hard to know what to tell them- they know that things might change." Congress will continue to work to reauthorize the Higher Education Act, and it remains critical to keep NASFAA members and our policy issues and suggestions in front of the Congressional staff that will be drafting and passing this important legislation.
"I'm one of their constituents and it was great to see that they are receptive to that. I'd encourage more members to volunteer and take the time to visit the Hill," said Garcia. Task force chair Mary Fenton also observed the importance of a personal connection to the issues saying, "once I got the staffer talking about how they were personally impacted you could see them start to understand."
The Hill visits were part of NASFAA's ongoing advocacy effort, the Advocacy Pipeline, designed to bring NASFAA's elected leaders and other members to D.C. to share on-the-ground perspectives with policymakers. In the coming months, additional NASFAA members will come to Washington in small groups to participate in direct advocacy with Congressional offices.
Publication Date: 10/8/2014