NASFAA Members Discuss Pell Grants, Origination Fees During Hill Visits
By Brittany Hackett, Communications Staff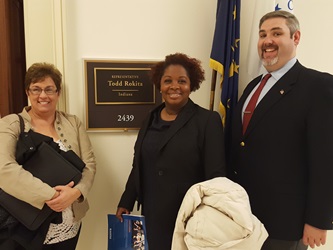 NASFAA members on Thursday met with Capitol Hill staffers to discuss the Pell Grant Program, origination fees, and ways to appropriately simplify the financial aid system.
Members who participated in the visits included:
Andrew Harvey, Garrett College (MD)
Melinda Middleton, Rose-Hulman Institute of Technology (IN)
Aristea Williams, University of Maryland University College (MD)
Among the issues discussed related to the Pell Grant, the members urged congressional staff to maintain the mandatory inflation-adjustment to the maximum award, which is scheduled to expire after award year 2017-18 leaving the maximum Pell award at $5,920 in perpetuity absent congressional action.
"We're talking about the neediest of the needy students" who are impacted by changes to the Pell Grant, Harvey said.
Members also discussed the need to do away with or at least reduce origination fees, which they described as de facto taxes on students and borrowers. The fees are "not transparent and in the age of transparency, this is an important issue," Williams said. "It's a hidden tax that is hard for us to explain, and hard for students to understand."
Deregulation and simplification were also discussed, including simplifying the FAFSA and reducing the administrative burden placed on financial aid administrators. The goal of deregulation and simplification should be to reduce the number of burdensome and unnecessary regulations that the financial aid office is responsible for, which would allow administrators to spend more time counseling students and families.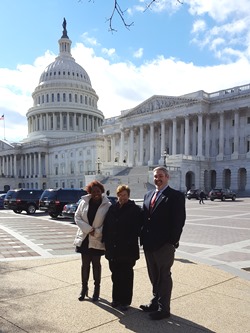 FAFSA simplification was also discussed, and the members urged staffers to work on codifying prior-prior year (PPY) and to coordinate with the Internal Revenue Service (IRS) to improve its Data-Retrieval Tool (DRT). Improving the DRT would, in particular, assist with verification issues like the need for a non-filer letter for those who do not file taxes. And while there have been some proposals to reduce the FAFSA to as few as two questions, the members cautioned against such a drastic reduction as it could create a greater burden on students through verification.
"We support simplification, but oppose over-simplifying the FAFSA," Harvey said.
Other topics discussed were the possible return of Year-Round Pell, changes to state authorization regulations, and the future of the Perkins Loan program.
For more pictures from the event, check out NASFAA's Advocacy Pipeline Facebook album. If you're interested in volunteering to be a part of NASFAA's Advocacy Pipeline, fill out an interest form here.
Publication Date: 2/10/2017
---