NASFAA Members Urge Support for Student Financial Aid Funding on Capitol Hill
By Allie Bidwell, Communications Staff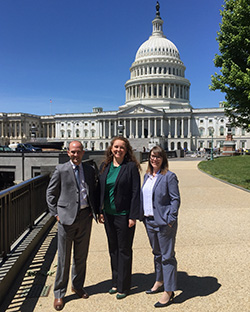 NASFAA members from three California institutions met with congressional staff members on Capitol Hill Tuesday to urge support for student financial aid programs, and to discuss issues of importance for graduate students, DREAMers, and concerns with the IRS Data Retrieval Tool outage.
The members – Scott Cline of the California College of the Arts, Julie Lindenmeir of California State University, San Marcos, and Lillian Simmons of Fielding Graduate University – met with staffers from several congressional offices.
During their meetings they emphasized the importance of pegging Pell Grant funding to the inflation index to ensure funding for the program keeps pace in future years. They also urged lawmakers to support campus-based programs – the Federal Work-Study Program (FWS), the Federal Supplemental Educational Opportunity Grant Program (FSEOG), and the Federal Perkins Loan Program, which is set to expire at the end of September. The members urged lawmakers to support those programs in their fiscal year 2018 budget.
With regard to FWS and FSEOG, Lindenmeir said they explained to staffers that newer schools could be more affected than others by changes to the programs.
"We talked about how if there is a reduction, because of the wonky calculation it could hit some schools more than others," she said.
Simmons said during the meetings she also discussed why graduate students should be taken into account in the federal student aid space. For example, in a "one grant, one loan" proposal – an idea that has appealed to some lawmakers as a way to streamline federal student aid – a loan that caps the annual amount a student can borrow, without taking into account the cost of living, could push graduate students into the private loan market.
"The overwhelming majority of people believe higher education is of public benefit, as opposed to private benefit," she said. "That really extends into the graduate sphere."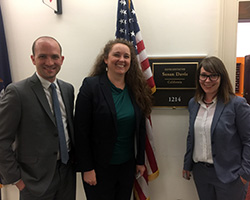 "For graduate students, particularly those from underserved populations, if you push them into the private loan sector, it's the loan companies making the decision of who can be a graduate student," Simmons said, noting that the companies often take into account a borrower's credit score, information on cosigners, and other factors "as opposed to whether or not they're someone who could contribute knowledge to society."
Cline, Simmons, and Lindenmeir also said they'd like to see more support for DREAMers – undocumented students who were brought to the country illegally as children, many of whom currently have protection under the Deferred Action for Childhood Arrivals (DACA).
Cline said there is a "climate of fear" on many campuses with respect to DREAMers. Particularly with the uncertainty surrounding their status under DACA, "there is an extra level of fear for a group that is fearful to begin with," he said.
The group said the opportunity to meet with staffers on Capitol Hill was a positive and informative experience.
"It seems like it is going to be scary but it's nowhere near as intimidating as you think it's going to be," Simmons said.
For more pictures from the event, check out NASFAA's Advocacy Pipeline Facebook album. If you're interested in volunteering to be a part of NASFAA's Advocacy Pipeline, fill out an interest form here.
Publication Date: 5/17/2017
---