MVP Brenda Brown

MVP: Most Valuable Professional is a series that features a brief Q&A with a different NASFAA member every couple of weeks. Do you know a financial aid colleague with something interesting to say? Send the names of potential future MVPs and a short note about why you're nominating them to news@nasfaa.org.
Brenda Brown
Director of Financial Aid at University of Miami School of Law
(Coral Gables, Florida)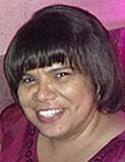 Brenda began her financial aid career 25 years ago, in December 1988, as a financial aid advisor at the University of Miami Office of Financial Assistance Services. While there, she held several positions at differing levels including financial aid advisor, delivery and scholarship coordinator, and a number of assistant director and manager positions which included responsibilities in areas such as counseling, verification, staff training and publications. In June 2002, she moved to the law school as an associate director of financial aid and a few years later was promoted to director. Brenda has served on NASFAA's Graduate & Professional Initiatives Committee (GPIC), NASFAA's Student Access & Diversity Committee, and has been active at her local level serving on the Executive Board of the Southern Association of Student Financial Aid Administrators (SASFAA).
What I do when I'm not at work:
I usually stick close to home and spend time with family. I enjoy cooking, reading, listening to music and watching sports. But, every now and then I like to travel. When I travel I have three things I always try to do: 1) visit a Major League baseball park; 2) visit a national park; 3) dine at any place that Guy Fieri has recommended on his show, Diners, Drive-Ins and Dives.
The best advice I ever got:
Never respond in anger. Let some things sit before responding, so you never "add fuel to the fire" or say anything you may regret later.
If I weren't working in financial aid:
I would probably be in some area of finance, since that was my major in college. However, if I could have a "do over," I would have studied communications to be a sports broadcaster.
One thing working in financial aid has taught me:
I have learned that some people do not know how to ask for or accept help. Many times, students are not really asking the question that they need answers to. You have to listen and read between the lines to determine what they really need.
Whom do you admire?
My parents. They have been married for over 53 years and have always put faith and family at the forefront of all.
What is your greatest accomplishment?
Being the BEST daughter, sister, aunt, friend and colleague that I can be. That means always shooting straight (no minced words here) and remembering to LIVE - LAUGH – LOVE, at home and at work.
What is a goal you've set for yourself for the upcoming award year?
Take time off for vacation. Not just because you have to use it or lose it, but because we all need to take time for ourselves and our well-being.
If you had a super power what would it be?
I would like to have the knowledge to heal or prevent the illnesses/diseases that we are dealing with today - cancer, MS, CP, etc. That would be a true blessing.
You can have dinner with three celebrities, dead or alive. Who are they?
The actress, Patty Duke. My sister, Denise and I became fans when she was a childhood actor. We loved The Patty Duke Show. Then when I began in the financial aid profession my mentor, colleague and friend turned out to be Patty's sister, Carol Kennedy.
The comedian, Steve Harvey. I have been a fan of his morning radio show for years.
Roberto Clemente. He was a Puerto Rican baseball player who had the opportunity to play in America. He was my father's sports hero-- so I learned to love him too.
What NASFAA service/product is most helpful to you?
NASFAA Today's News! It's the best way to keep up with the legislative and regulatory activities affecting federal student aid on a daily basis. But, most importantly it is the gateway to all the other products, services and updates (i.e. conferences, online learning/training, resources, etc.) available to help us assist us ensure compliance.
Most motivating financial aid experience:
I have experienced a few in my career and it is hard to pick just one. But, I do recall one student who decided to return to college at the age of 28 as a transfer student. He was having a difficult time with his relocation from NY and the "financial" transition to being a student. He just needed some extra assistance to make it through his first-year at the university. I was able to assist him and he sent me a very nice thank you card and went on to complete his bachelor's.
Want to say hello to Brenda or reply to something she said? Please leave your remarks in the comments section, below!
Publication Date: 1/3/2014
---