NASFAA Members Express Support and Concern for HEA Reauthorization Proposals on Capitol Hill
By Joelle Fredman, NASFAA Staff Reporter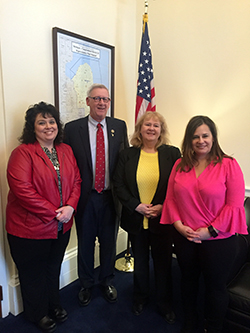 NASFAA members from Michigan, Vermont, and Kentucky institutions met with congressional staff members on Capitol Hill Tuesday to discuss provisions included in the House Republicans' bill to reauthorize the Higher Education Act (HEA) as well as express their support and concerns related to the future of financial aid programs as the Senate drafts its proposal.
The members — Katherine Allen of the University of Michigan– Dearborn, Marie Johnson of the University of Vermont, and Theresa Lowder of Berea College — met with staffers from several republican congressional offices, including lawmakers on the House and Senate committees tasked with drafting legislation to reauthorize the HEA.
During their meetings, the members told lawmakers that the bill — the Promoting Real Opportunity, Success and Prosperity Through Education Reform (PROSPER) Act — included some proposals that would support students' success, and others that would be a disservice to learners and their institutions.
"I think most [lawmakers] were eager to hear how the PROSPER Act would affect students, both positively and negatively," Lowder said.
Specifically, the members expressed their support for the elimination of origination fees, which further complicate the student loan system, as well as the proposal granting institutions the authority to limit loan amounts for students.
The members also told lawmakers that they were concerned that mandating weekly or monthly disbursements of federal funds to students would be extremely complicated to administer and problematic for students. They also took issue with the proposal to mandate annual counseling for financial aid, which may place a heavy burden on schools with limited resources, and the proposal to eliminate the Federal Supplemental Educational Opportunity Grant (FSEOG) and the Graduate PLUS Loan program.
Allen said that speaking with lawmakers about her experience alongside two other members with stories from students in their states strengthened the group's positions, and that throughout all of the meetings she "felt the staffers we met with had a genuine concern for higher education."
The members said that they appreciated the opportunity to come to Washington, D.C. to participate in the Advocacy Pipeline and speak on behalf of their students.
"I would strongly encourage other colleagues in aid administration to take part in these opportunities and not miss out due to fears about what to expect or what to say — NASFAA has that covered and great materials to aid in making your points but not sensor you which is fantastic," Johnson said.
For more pictures from the event, check out NASFAA's Advocacy Pipeline Facebook album. If you're interested in volunteering to be a part of NASFAA's Advocacy Pipeline, fill out an interest form here.
Publication Date: 3/8/2018
---