University of San Diego Financial Aid Office Sticks Its Nose Out for Childhood Poverty
By Joelle Fredman, NASFAA Staff Reporter
As Judy Lewis Logue prepares to retire after 55 years working in financial aid next winter, she will be leaving a lot behind, such as friends, colleagues, and a slew of red noses. That's because Logue hopes that after she steps down as the director of financial aid at the University of San Diego (USD), her staff will continue the tradition she started three years ago of fighting childhood poverty by supporting the nationwide effort known as Red Nose Day.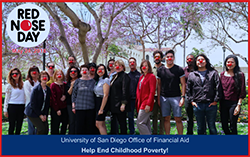 When the United States adopted the England-born initiative of selling red noses for one dollar to raise money to support children in poverty in 2015, Logue suggested to her financial aid staff during a monthly meeting that they join the effort.
"If anyone cares about child poverty, it's financial aid advisors," she said. "The more children who are brought out of poverty, the better the chances are of them having money to go to college."
Logue then purchased red noses for her staff and started an annual tradition of taking a staff photo sporting the noses in support of Red Nose Day. Logue said that seeing the staff photograph hanging on the wall of the financial aid office excites students and shows them how much the financial aid staff cares about bettering lives.
"This is a great opportunity to support a cause and have fun at the same time," she said.
Logue said her staff looks forward to taking the photo in their noses each May, and that many of them have kept their noses to wear in the next year's photo. While Logue said she is proud that USD has joined the nation in this effort, she hopes that other financial aid offices will also take on this important work.
"I'm hoping that more financial aid offices will get behind the cause," she said. "It's a great way to support a very worthy cause that affects children who will become college-going students, if we are lucky."
See what other financial aid offices across the country are doing to support those in their communities here.
Publication Date: 6/21/2018
---