Report Uncovers New Indicators of the Likelihood a Borrower Will Enter Loan Default
By Joelle Fredman, NASFAA Staff Reporter
Every quarter, about 250,000 Direct Loan borrowers default on their loans for the first time, and an additional 20,000 to 30,000 borrowers default on rehabilitated loans. While past research has examined how educational characteristics can indicate how likely borrowers are to enter into default, such as whether they complete a degree or which type of institution they attend, a new report discovered a series of non-educational factors that can serve as predictors as well.
In the Urban Institute report released Monday, "Underwater on Student Debt," author Kristin Blagg, using a sample of 80,000 borrowers who entered repayment for the first time in 2012, found that the other types of debt borrowers accrue in addition to student loans as well as the status of their credit scores are potential signs that a borrower will soon default on his or her student loans.
Just last week Third Way, a center-left think tank, published a report that found that a student's completion status is a strong indicator of whether they will make a dent in repaying their student loans, and earlier this summer the Institute for College Access and Success (TICAS) published a pair of fact sheets highlighting that students attending for-profit colleges were more likely to default on their loans than those attending public institutions and private, nonprofit schools.
In this report, Blagg found that borrowers with collection debt in addition to student loans, such as medical, utilities, retail or bank debt are more likely to default on their student loans. Compared to 24 percent of non-defaulters, about 59 percent of students who defaulted on their loans within four years held these types of debt, which Blagg refers to as indicators of "financial stress," in the year before starting repayment. In fact, she discovered that having utilities and medical debt increased the likelihood of default by 3.4 and 4 percentage points, respectively.
Blagg also found that borrowers in default were less likely to hold debt that required underwriting or risk assessment, such as credit card debt, a mortgage, or an auto loan, in the year preceding repayment. Having auto, mortgage, or credit card debt, she wrote, decreased the likelihood of default by 2.7, 7, and 7.3 percentage points, respectively.
While for borrowers who defaulted the likelihood of holding debt that indicated "financial stress" increased in the years leading up to the default — from 52 to 64 percent the year beginning repayment to 75 percent the year of default — borrowers who did not default experienced relatively no change in their auto, mortgage, or credit card debt (25 percent in any year).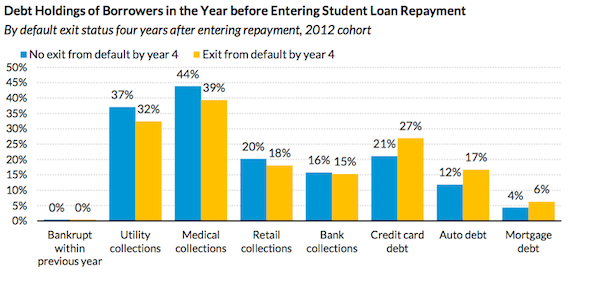 Another indicator Blagg discovered was that the credit scores of borrowers entering into default, which are typically poor to fair to begin with, drop 50 to 90 points in the year or two preceding the default, which she wrote may be a result of a delinquency status on the loans or from amassing other delinquent or defaulted loans. She found that 52 percent of borrowers with credit scores lower than 500 in 2011 defaulted at least one time by 2016, and that an increase of 10 points on a credit score was linked to a 1.3 percentage point decrease in the chances of default.
While Blagg wrote that students who default are more likely to live in neighborhoods with higher populations of residents of color, less adults with bachelor's degrees and higher, and lower average incomes, she wrote that a borrower's credit history is "a stronger predictor of default than the neighborhood where she resides."
Instead of using students' credit scores to inhibit them from taking out loans to fund their higher education in order to avoid defaults, Blagg urged policymakers to instead use her research to identify students at risk of default and target assistance at them, such as extensive loan counseling. She also suggested that students' credit scores could be used to incentivize student loan servicers to help students avoid default by instituting policies that offer additional money to servicers that ensure "high-risk borrowers" are enrolled in income-driven repayment plans.
"These data show that student loan defaulters are likely to be financially vulnerable, but my results should encourage policymakers to do more to help borrowers manage their debts, rather than to limit access to loans," Blagg wrote.
Blagg also recommended that higher education stakeholders target research efforts at examining how students handle outside debt and what effect it may have on their ability to repay their student loans, and that policymakers establish discharge policies to help high-need borrowers, such as partially forgiving the loans of borrowers who spent several years in social programs such as the Supplemental Nutrition Assistance Program (SNAP) after leaving school.
"Student loans are a key part of broadening access to higher education, and students take on a great deal of risk when they sign their promissory note for a student loan," Blagg wrote. "It is up to policymakers to ensure that borrowers have access to a solid and fair safety net when life gets in the way of repayment."
Publication Date: 8/14/2018
---