CFPB Official Overseeing Student Loans Resigns Due to Issues With Leadership
By Joelle Fredman, NASFAA Staff Reporter
The official charged with overseeing student loans at the Consumer Finance Protection Bureau (CFPB) announced Monday that he is stepping down, arguing that "consumers no longer have a strong, independent consumer bureau on their side."
Seth Frotman, who has served as the assistant director and student loan ombudsman for the bureau for the past seven years, wrote in a letter to Acting Director Mick Mulvaney that he will be leaving his position on September 1 due to the fact that, under Mulvaney's leadership, "the bureau has abandoned the very consumers it is tasked by Congress with protecting."
"Instead, you have used the bureau to serve the wishes of the most powerful financial companies in America," he wrote to Mulvaney.
In the letter, Frotman argued that the CFPB has "repeatedly undercut and undermined career CFPB staff working to secure relief for consumers," and wrote that the bureau "folded to political pressure" when the Department of Education (ED) "shut the door to routine CFPB oversight of the largest student loan companies."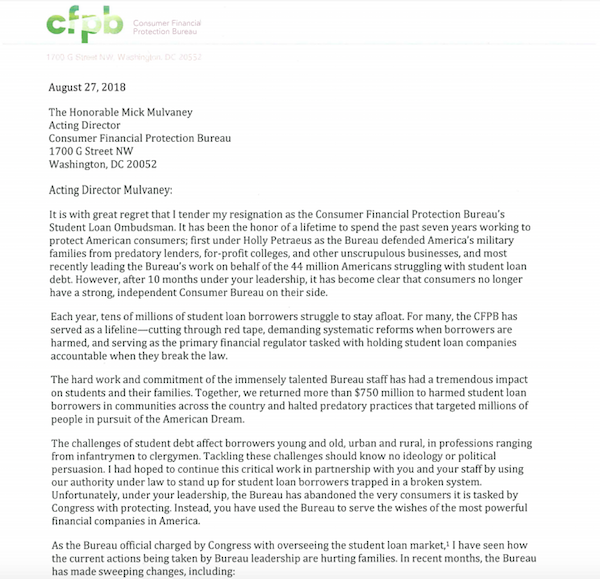 Last summer, ED quietly ended its data-sharing partnership with the CFPB via a letter to then-Director Richard Cordray, claiming that the CFPB's actions "undermined" ED's mission to oversee the student loan program and protect borrowers. ED terminated two Memoranda of Understanding (MOUs) enacted under the Obama administration, claiming the CFPB had handled complaints related to the federal student loan program, rather than directing them to ED within 10 days, as outlined. ED said the CFPB expanded its jurisdiction into "areas Congress never intended," which confused borrowers and servicers. Lawmakers, however, said that they feared that this would leave borrowers vulnerable to potential abuse by servicers.
Frotman also wrote that while he was once "proud to be a part of an agency that served no party and no administration," that is no longer the case, and instead the current leadership at CFPB has made it clear that "it will protect the misguided goals of the Trump administration to the detriment of student loan borrowers."
Specifically, Frotman wrote that recently, "senior leadership at the bureau blocked efforts to call attention to the ways in which the actions of this administration will hurt families ripped off by predatory for-profit schools," as well as efforts to notify ED of the harm that its "unprecedented and illegal attempts to preempt state consumer laws and shield student loan companies from accountability for widespread abuses" would have on students.
In March, ED reiterated in a Federal Register notice that it has sole authority over federal loan servicers, following several months of debate between attorneys general and loan servicers on whether states can regulate servicers operating in their borders. Many policymakers and groups representing student borrowers came out against the notice.
Frotman wrote that while the bureau once found "efficient and innovative ways to collaborate across government to protect consumers," it now is "content doing the bare minimum for them while simultaneously going above and beyond to protect the interests of the biggest financial companies in America."
For example, he argued, bureau leadership stopped bureau staff from publishing a report late last year about new evidence that large banks were taking advantage of students by charging them "legally dubious" fees."When pressed by Congress about this," he added, "you chose to leave students vulnerable to predatory practices and deny any responsibility to bring this information to light."
"Sadly, the damage you have done to the bureau betrays families and sacrifices the financial futures of millions of Americans in communities across the country," Frotman wrote.
Rep. Bobby Scott (D-VA), ranking member on the House Committee on Education and the Workforce, said that Frotman's resignation "is further evidence that the bureau's current leadership is failing to do its job on behalf of America's 44 million student loan borrowers."
"Frotman's assessment that the Bureau has lost its independence and is now a political arm of the administration should be taken seriously. It not only reflects his personal experience, but it is also supported by the series of recent actions taken by the Bureau to weaken protections for students and their families," he wrote in a statement.
Persis Yu, staff attorney at The National Consumer Law Center (NCLC), wrote in a statement that under Frotman's leadership, "the Office of Students and Young Consumers has uncovered systemic abuses in student loan servicing, prompting important reforms to the industry," adding that "Frotman's allegations that the current administration is undercutting enforcement of the law raise concerns about the future of the Navient lawsuit as well as future enforcement of known abusive practices."
Toby Merrill, director of the Project on Predatory Student Lending, said that "current CFPB leadership is thwarting any and all efforts to enforce student and consumer protection, and obstructing the work of those, like Seth, who would protect students."
"Seth's resignation reflects this administration's alignment with for-profit colleges and predatory corporations rather than the students and taxpayers it is supposed to protect," he wrote in a statement.
Publication Date: 8/28/2018
---