MVP Marvin Smith, FAAC®

MVP: Most Valuable Professional is an occasional series that features a brief Q&A with a different NASFAA member. Do you know a financial aid colleague with something interesting to say? Send the names of potential future MVPs and a short note about why you're nominating them to [email protected]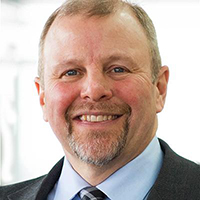 Marvin Smith, FAAC®
Executive Director
UCLA Financial Aid & Scholarships
Meet Marvin Smith. Marvin started out his higher education career by pursuing a degree in psychology at Purdue University but once he got to graduate school quickly realized his passions were tied to helping others pursue their postsecondary goals.
"I ended up pursuing a master's in college advising. I thought I was maybe going to be an academic advisor or something like that," Marvin said. It was through his master's program at Purdue that Marvin stumbled upon an assistantship in the financial aid office. There he learned about the world of financial aid and its ability to help vulnerable students make their way through higher education.
Marvin has served as a member of a variety of professional associations, collaborated and provided insight for Blue Icon Advisors, and previously served on NASFAA's Policy Rapid Response Network Task Force. He also served on NASFAA's Board of Directors, and in 2014-15 worked on the New & Aspiring Aid Director Task Force.
Further, Marvin has been integral in NASFAA committee work including volunteering for the Leadership Development & Professional Advancement Committee (July 1, 2012 - June 30, 2013), the National Conference Committee (July 1, 2008 - June 30, 2009), the Leadership Development & Professional Advancement Committee (July 1, 2005 - June 30, 2006), and the Decentralized Trainers (August 16, 2000 - January 31, 2001).
"I really value my professional colleagues, they're like my heroes," Marvin said. "I really value professional development. I'm highly involved in state, regional, and national associations. I would just encourage everyone to get involved. And that camaraderie and friendship and learning that you get from your colleagues? I can't do my job without it."
How did you get your start in financial aid?
MS: I thought I was maybe going to be an academic advisor or something like that but, when pursuing my master's degree, I stumbled on an assistantship in the financial aid office where I actually ended up doing a NASFAA-sponsored research grant called the 'parents perspective of financial aid.'
I loved [working in the financial aid system]. I liked meeting with students and helping students navigate a complicated system.
What do you find the most rewarding and fulfilling about your work?
MS: You want to really help the underdog navigate through the bureaucracy; get the money they need to go to college. I like finding the way to help a student who is in a tough situation. I think it's kind of a mixture of social work on a college campus. You use the social work skills to help students navigate a complicated system and get the resources they need.
If you could change one thing about financial aid what would it be?
MS: I think we are finally headed in this direction but I would like to see a reduction in the number of questions on the FAFSA and being able to connect to your data from the IRS directly. I think that's an exciting opportunity ahead of us and a challenge, in theory, that eliminates or reduces substantially verification.
What's something you wish all higher ed folks knew about financial aid?
MS: I am still amazed at how little people on our own campuses understand what we do. I used to have a boss that said, 'Once people understand what we're even doing, they're going to start asking a lot of questions about how much aid we administer and how many Pell recipients we have.'
I think we're at that point but I still have been shocked — and I think we've learned it through the [Higher Education Emergency Relief Fund] process — by people not understanding what it means to demonstrate need. Having a better understanding of our profession and how we do things across campus I think would help us.
How has the pandemic challenged you?
MS: I'm working harder. And my colleagues, they're working harder than they ever had their whole life. There's a blend now, of work and home life, that doesn't go away.
Even before the pandemic you're always checking your phone for news and updates but I think a lot of the challenges — of not only the pandemic, but also a financial crisis and helping students — fell on the financial aid office, so it's been a challenge.
What's something you couldn't function without?
MS: Diet soda. That's my addiction. Some people drink coffee. I drink diet soda all day. Diet Pepsi, Diet Coke, I'm not picky, but I need that caffeine and that helps me run all day.
What's on your bucket list?
MS: I'm a huge sports fan, so I am looking forward to maybe in-person settings, and maybe seeing my favorite teams in new venues because I just moved to California. Seeing the Cubs play the Dodgers, that was fun being a Cubs fan.
I'd like to see the Colts play in Los Angeles or in Las Vegas. That would be fun. I'd like to see my Purdue Boilermakers basketball team play UCLA in the Final Four. That would be a bucket list item. So I would cheer for Purdue but wouldn't be heartbroken if UCLA won.
Do you have a favorite sport or sports team?
MS: I am a huge basketball fan. I still play, the pandemic has limited it, but I do like my morning basketball. I do follow the NBA obsessively, and college basketball I really enjoy.
Anything you've learned in the last year, or a new hobby you've picked up?
MS: I walk my dogs now. In Indiana we used to take them to a dog park but there are just not big dog parks in LA. So I walk my dogs a lot and I walk them up hills because we live near some very hilly areas which you also don't have in Indiana. It's a good workout.
Any vacation plans for the fall?
MS: I can't remember the last vacation I've had but we go back to Indiana a lot, so I think a family vacation with the kids either in Indiana, or here in LA is cool.
Want to say hello to Marvin or reply to something he said? Please leave your remarks in the comments section below. You can also take a look back at our past MVPs to read any you missed the first time around.
----
Do you know a financial aid colleague with something interesting to say? Send the names of potential future MVPs and a short note about why you're nominating them to [email protected].
Publication Date: 9/13/2021
---