MVP Nicholas Prewett, FAAC®

MVP: Most Valuable Professional is an occasional series that features a brief Q&A with a different NASFAA member. Do you know a financial aid colleague with something interesting to say? Send the names of potential future MVPs and a short note about why you're nominating them to [email protected].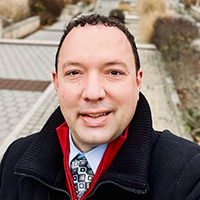 Dr. Nicholas Prewett, FAAC®
Director of Financial Aid
Stony Brook University
Meet Dr. Nicholas Prewett, FAAC®. Nick has now been working in the financial aid profession for two decades and has become increasingly involved in development opportunities as a way of paying forward the skill set he's developed thanks to countless others who have helped him along the way.
"I like to consider financial aid as a profession," Nick said. "That involves work on our part to make sure that we tell other people that this is a profession and it's not just a job."
For Nick, his passion lies in volunteering at the state, regional, and national level to ensure that he gives back to the community in a meaningful way.
Nick has been heavily involved in his volunteer work with NASFAA, serving as a member of the national conference, technology initiatives, and federal issues committees, representative-at-large for the Board of Directors, as a Certified Financial Aid Administrator® Program Commissioner, and as an Incoming Chair of the Leadership & Legislative Conference & Expo Compliance & Risk Management pathway. Nick also works as an independent consultant for Blue Icon Advisors.
How did you get your start in financial aid?
NP: I've been in financial aid for almost 20 years now. I started at the University of Kansas and I started because I was looking for a job while I waited for my wife to finish her master's degree. I think a lot of people end up in financial aid and it's not necessarily a planned path. After a while, I realized that I really liked working with students and I liked being on campus, and so it sort of turned into a career for me.
What do you find the most rewarding and fulfilling about your work?
NP: The motivation is really being able to help students go to college. That's what really got me hooked to begin with.
I also really enjoy working with other financial aid people to really turn it into a profession. Having conversations with either my staff or staff at other schools, talking about financial aid in the big picture and how we can always help students — because I think at the end of the day, I can always help students go to my institution, but the more people I give the tools of the trade of financial aid or share that passion, the more students that we can help achieve higher education.
If you could change one thing about financial aid, what would it be?
NP: The application process is a little bit arduous for students. It would be nice to find a way to really integrate federal, state, and institutional applications into one because students lose track of which application they've done, and if they have to do it each year or if they just have to do it at one time.
Anything we can do to stop those barriers to students completing the process, it would be helpful.
What's something you wish all higher ed folks knew about financial aid?
NP: At the institution level, I think the financial aid people are cool, and we're not nerdy rule followers. I think that's important for others to know.
At the end of the day, we really want to help students, and we want to do that within the constraints that we have. So I don't want us to be known as the 'no' office. I prefer us to be known as the 'well, maybe' office, or the 'hey, how about this way?' office. Anything we can do to get out of always telling students 'no,' and I think that's helpful.
Do you have any recommendations for people just getting started in the field?
NP: The most important thing is to make connections. I don't think I would be in my position without networking. Because of COVID, we've seen a decline of in-person conferences, and you just don't get the same networking opportunities. It's great to have a go-to person at multiple schools to ask questions of, because I think it makes you look better at your own institution. For anyone starting in the profession, get out there and get to know people and don't be afraid to ask questions — that's important.
The other piece is if you're asking questions, always be willing to jump in and answer questions, too. I think sometimes people are a little slow in their networking and instead of sitting on an email, if somebody sends you a question that's important and immediate, to kind of get that response. That's really how you build those relationships and that knowledge base.
Favorite sport?
NP: I'm a diehard Kansas City Chiefs fan, so the Super Bowl was a really, really tough loss. I'm also a Kansas Jayhawks basketball fan so those are two things that I follow really closely.
What's something you couldn't function without?
NP: I enjoy having a nice cup of green tea every morning. That allows me to function and kind of go through the day.
What's on your bucket list?
NP: I like to travel and I like to go on vacations with my family. Because of COVID, we haven't really been able to leave the country over the last couple of years and having the opportunity to expose them to new cultures is really important to me. Having a few new places to travel would be cool.
Anything you've learned in the last year, or a new hobby you've picked up?
NP: We live on Long Island, and I took up stand-up paddleboarding. It is really good for core strength. As somebody who grew up in the Midwest, it's really interesting to ask Alexa in the morning when it is high tide and when it's low tide to make sure that you can get the best paddleboarding in, so I think that's fun.
What is a goal you've set for yourself for the upcoming year?
NP: For the next year, it's re-engaging with colleagues that I haven't seen in person over the last few years. Being able to attend NASFAA training and workshops, attending the EASFAA and NASFAA conferences, and just getting back in and kind of re-establishing those in-person connections. I'm tired of Zoom and I'm tired of emailing people when I really want to see them in person.
Want to say hello to Nick or reply to something he said? Please leave your remarks in the comments section below. You can also take a look back at our past MVPs to read any you missed the first time around.
----
Do you know a financial aid colleague with something interesting to say? Send the names of potential future MVPs and a short note about why you're nominating them to [email protected].
Publication Date: 2/24/2022
---