MVP Sharmain Talbert

MVP: Most Valuable Professional is an occasional series that features a brief Q&A with a different NASFAA member. Do you know a financial aid colleague with something interesting to say? Send the names of potential future MVPs and a short note about why you're nominating them to [email protected].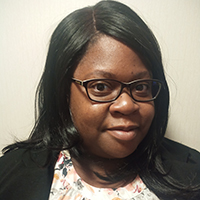 Sharmain Talbert,
Interim Assistant Director Enrollment Services
Southern University at Shreveport
Meet Sharmain Talbert. Sharmain is the interim assistant director of enrollment services at Southern University at Shreveport.
When she first got started in financial aid after starting her career in the nonprofit sector managing an after-school program, she was nervous because of the stresses associated with working in higher education. But Sharmain felt the career could help her empower and educate students through their postsecondary schooling.
As a first-generation college student, Sharmain had positive experiences with the financial aid office, but she knows that not everyone has the same experience, so her charge has been to make a difference in the lives of the students she counsels.
"You have to keep in mind that you're the professional and many times students that come across our desk, the issues that they have are bigger than our area," Sharmain said. "We need to continue to show a little empathy because at one point, we were there."
Sharmain said it is important for those in the financial aid field to step outside of their comfort zone and to utilize all of the resources available through the state and regional associations.
"What we do as financial aid professionals is essential to higher education," Sharmain said. "What we do is very important, and we should not stop at obtaining knowledge."
Sharmain has been involved and active with the LASFAA board and has been an integral part of NASFAA's Diversity Leadership Program (DLP), participating as a member of the 2020-21 class as well as the selection committee for the subsequent cohort.
Learn more about Sharmain, her interests, and her career path in the Q&A below!
How did you get your start in financial aid?
Prior to working in higher education, I was managing an after-school program through a local nonprofit organization in the greater Baton Rouge area, and I learned of an opening within the office of financial aid at my alma mater, Southern University and A&M College in Baton Rouge, and although I was a bit nervous, I jumped at the chance to apply. I entered in the fall of 2015 in the realm of financial aid, and it was a challenging, fast-paced, yet rewarding experience.
What do you find the most rewarding and fulfilling about your work?
I would say watching the students that you help in their freshman year walk across the stage and complete their matriculation. When you go to graduation to work as a university staff and then you have those students that come up and say, 'You know, if it wasn't for you, I don't think I would have been able to complete this process.'
In the realm of financial aid, I look at it as the working body. The heart isn't more important than the brain. We all have our own individual niches and work together making certain that the body operates, and working in financial aid is more than packaging or ISIR, more than directing students by completing entrance and exit counseling. We are unofficial counselors and we'll have students that come in who may have challenges in academics, challenges on the home front, they're near or they've exhausted their aid eligibility. So to be able to assist them with finding the funding that they need to complete their program and not necessarily have to borrow student loans, to see it come to fruition, you see them walk across the stage, you see them on LinkedIn as executives at different companies or working in higher education themselves, that is very rewarding.
If you could change one thing about financial aid, what would it be?
Now that I'm in a leadership role, what I will say is, how various areas within higher education view the financial aid office. Many people, students, administrators, and the community, they feel like everything can be done with a click of a button and sometimes it's not that easy.
I wish that I can convey that and really show and empower these different areas, in all that it takes to work in financial aid — it is a huge task. Not many people really understand all the work that it takes for you to operate in this particular environment. It is a lot.
What's something you wish all higher ed folks knew about financial aid?
It depends on the institution or the system, but just the importance and the relevance of the financial aid offices. We do serve as chief compliance officers for the institutions, so a lot of times when we're requesting additional documentation, or we may have to say no, or we may have to go a different route, it is not because we're deliberately trying to be cumbersome or create a hard time. It is because we still have to adhere to the regulatory guidelines, with the federal government, and even with the state in which we work.
Tell us about your institution. What are some unique aspects of working with community college students?
I am a part of one of the best systems in higher education. I work with the university system. We are the only HBCU system in the U.S., and the colleges within our system create a unique opportunity for our students. With our community college — we're the only community college within our system — we have various programs, workforce development programs. I actually started out working with Sula Connect, which is a bridge to a baccalaureate program.
We have students that have applied to another one of our other four-year campuses within our system, and they might have been denied admission at first, so they're the first to our program. We match them with additional resources that help them just be successful in their college matriculation.
They get more acclimated to the respective campus and I think that's very unique and very rewarding to see, the student that may have not had the confidence in asserting themselves and asking questions and navigating through collegiate life — and you're a part of that process. I graduated from Southern University, so I'm like a resource for them, a liaison of sorts.
Do you have any recommendations for people just getting started in the field?
Always take the time to learn the regulations for yourself. FSA Partner Connect has a lot of great information that's consolidated into one nice, neat website.
There's also the importance of time management. I do have an MBA and found myself using a lot of the things I've learned during my time matriculating through that program that helped me keep from being so overwhelmed when you have all of these deadlines. It's better to just map out a plan. It is even in the Bible, 'Without a vision, the people perish.' So sitting down, mapping out a plan, and prioritizing what's within that plan will go a long way.
Do you have a favorite sport, or are there any shows/concerts you enjoy?
Well I am big into anime, I read a lot of graphic novels, and then my husband and I watch a lot of anime on Hulu.
I am definitely into basketball. I haven't been to any games this season, but I am a Pelicans fan. I also really love music. I love listening to it, I love singing it, and really it's more than the words — it is the melody for me, it's the tempo.
What's something you couldn't function without?
Personally, my bluetooth. In the midst of all of the work, sometimes I'll be listening to classical music, it'll just depend on what's going on. Just having that earpiece in while I'm working on a report, or responding to emails, it just helps keep me calm and paced. So if I leave my bluetooth at home, it's just a horrible day.
I also can't function without my coffee.
What's on your bucket list, or any upcoming travel plans?
I'm very excited to go to Denver. I've never been to Colorado, and the chance to be among various high education professionals in different areas and speaking to them about their different processes, at their university, seeing what I can take back on my campus.
In addition, I am starting to get back into travel with my spouse, and we have an anniversary trip coming up in a couple of months. So I'm definitely excited about it.
Anything you've learned in the last year, or a new hobby you've picked up?
In the pandemic I started to design more like a graphic designer. I put together print media, flyers, presentations,things of that nature. I have become pretty well-versed with Canva now, so that is something I've definitely picked up.
What is a goal you've set for yourself for the upcoming year?
My goal is to become FAAC® certified and to take that exam — to buckle down and study and to facilitate more professional development across the state. I was also elected as second vice president of our state association, LASFAA. So definitely finding new topics for learning membership. Also I would like to go back to school and obtain my doctorate.
Want to say hello to Sharmain or reply to something he said? Please leave your remarks in the comments section below. You can also take a look back at our past MVPs to read any you missed the first time around.
----
Do you know a financial aid colleague with something interesting to say? Send the names of potential future MVPs and a short note about why you're nominating them to [email protected].
Publication Date: 4/18/2022
---