Angel's Angle: An Incredible End to Another Amazing Week!

How was everyone's weekend? Mine was definitely one to remember! With the three day weekend, I was able to fully relax and enjoy the Fourth of July here in Washington D.C. My weekend officially started on Saturday when I got to view the fireworks on the National Mall. From sunup to sundown, my day was completely filled with things going on all around me.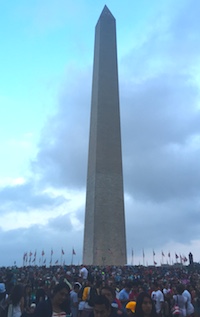 Upon my arrival at the national mall, I felt like I was one in a million. From the Washington Monument, to the steps of the Abraham Lincoln memorial, there was not a spot that wasn't occupied. The wet and muddy conditions certainly didn't affect the spirit of those in attendance. In every direction I looked, I saw nothing but smiling faces, kids dancing, and people singing along to the live music that was playing. Finally, after finding what I believe was one of the best views to watch the fireworks, I made sure to get my camera ready to capture all the excitement! Shortly after 9:00 pm, the night sky began to light up with a vibrant mix of colors. I felt a jolt of energy with each new firework that was launched into the air. With no obstructions to my view, and nothing else on my mind, it made for an unforgettable experience. I am incredibly grateful and happy I was able to experience my Fourth of July watching the fireworks live from the National Mall. It is an event that I'm sure I will remember forever.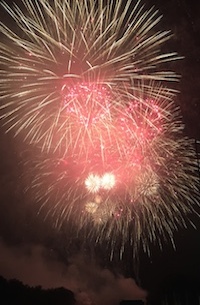 In the office this week, I worked on finalizing the sessions that I will attend at the national conference! After taking a closer look at each individual session, it was incredibly hard to narrow down my list of ones I wanted to attend. It made me realize that all those who are planning to attend the conference are probably dealing with the same struggle when trying to create a schedule that doesn't leave out any top-choice sessions. With the big date just around the corner, the energy in the office only adds to the excitement as the NASFAA staff works diligently each day to ensure this year's conference is the best yet! As I'm sure you all know, this year's conference will be the first ever to hold a parade! Although this may be the first time NASFAA has ever thrown a parade, I am confident that it will go off without a hitch and will set the tone for all the exciting stuff to come!
I also attended a Postsecondary Data Working Group meeting with my supervisor, Charlotte, to brainstorm about how data collected by the Department of Education (ED) can be readily accessible to, and best utilized by, those in higher education. The discussion focused on gathering ideas and feedback from professionals in postsecondary education, creating a set of recommendations that will be presented to ED on how information that is already being collected can be made available to researchers who will use the information to influence policymaking, institutional management, and consumer choice. These types of meetings are my favorite because they really encourage brainstorming and collaborative decision-making from all those in attendance.
As I look at my calendar, I am eagerly awaiting an upcoming event where NASFAA President Justin Draeger will sit on a panel and discuss institutional risk sharing. This topic has come up several times over the course of my time here so far. I am excited to hear what others in the higher education community have to say about this issue! Let me know what you think about it in the comments section below and don't forget to check out my Facebook album for pictures I've taken while in D.C.
Publication Date: 7/10/2015
---