2016 Presidential Candidates Scattered on Higher Ed, Student Aid Views
By Allie Bidwell, Communications Staff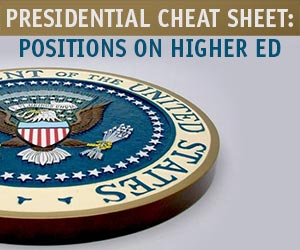 As 2016 presidential candidates head toward primary elections, questions about college affordability and student loan debt have been hot on the campaign trail.
Democratic candidates have primarily focused on college affordability more broadly – with plans for debt-free or tuition-free college, as well as reforms to student loan repayment plans. Democratic frontrunner Hillary Clinton recently announced her higher education platform, which calls for free tuition at community colleges, and debt-free tuition, fees and books at public four-year institutions.
The 16 Republican candidates, on the other hand, have had a much wider array of stances toward higher education and student aid. Sen. Marco Rubio (R-FL), for instance, has proposed a "Student Investment Plan" that resembles "pay it forward" college financing plans some states have considered using – investors would pay a student's tuition, and in return, the student would pay a percentage of his or her income for a set period of time after graduating. Sen. Lindsey Graham (R-SC), and former Arkansas Gov. Mike Huckabee have said they think students should be able to refinance their loans, an idea that has drawn the support of several Democratic candidates and has been championed by Sen. Elizabeth Warren (D-MA).
Below are examples of Democratic and GOP stances (jump down to Republicans' positions) on higher education and student aid issues.
DEMOCRATS
Lincoln Chafee [Dropped out of the race 10/23/15]:
On college cost: In his 2013 Budget and State of the State address, the former governor of Rhode Island said "ever-increasing tuition rates" are the biggest barriers to obtaining a quality education.
On higher education funding: In an interview with Skimm, Chafee said he's "a big advocate" of funding for public higher education. "That's what made America great," he said. "Access to a good education and not coming out with high student debt."
Hillary Clinton:
On college cost: During her campaign kick-off speech in June, Clinton hinted that she would work to expand college access and affordability. "Let's make college affordable and available to all … and lift the crushing burden of student debt," she said. Clinton has also said she wants to make college "as debt-free as possible," although she has not yet released a plan for debt-free college, and included proposals to do so in her $350 billion college affordability plan, dubbed the New College Compact. Clinton in part pins the rising cost of college on state divestment from higher education, and gives states and schools an incentive to improve by making them eligible for federal grants that ensure no student has to take out loans to pay for tuition at four-year public colleges and universities. [Updated 8/12/15]
On student loans: In July, Clinton hosted a Facebook Q&A, during which she answered questions from journalists and voters. During the session, Clinton promised to prioritize student loan debt, according to MSNBC. "I'll be putting forward specific proposals to refinance debt so it becomes more affordable, encourage more people to use income contingency repayment program so you are paying back as a percentage of what you actually earn, to try to make college more affordable to start with so that students today and tomorrow don't end up with the amount of debt you and 40 million other Americans currently have," Clinton said. "This is one of my biggest economic and educational priorities and I will be addressing it from the first day I become president."
Clinton's New College Compact also included provisions around student loans. She proposed cutting loan interest rates, making loan refinancing an option, and creating a single income-based repayment option for borrowers, that would be capped at 20 years (rather than 25) and would allow borrowers to choose to have their payments deducted from their paychecks. "Students should never have to take out a loan to pay for tuition at their state's public university," Clinton wrote. "We'll make sure the federal government and the states step up to help pay the cost, so the burden doesn't fall on families alone." [Updated 8/12/15]
On free community college: Clinton has said she supports President Barack Obama's plan for two years of tuition-free community college.
Martin O'Malley [Dropped out of the race 2/1/16]:
On debt-free college: In early July, O'Malley formally introduced his proposal for debt-free college. The national goal, he said, would be to ensure that all students have access to high-quality, debt-free college at an in-state public college or university, within five years. O'Malley also urged states to immediately freeze tuition rates at public institutions and "restore investments in higher education." O'Malley said he would partner with states through matching grants to encourage higher funding for public higher education.
On student loans: O'Malley's plan also includes relief for student loan borrowers. O'Malley said he wants to create a refinancing option for students, and automatically enroll borrowers in income-based repayment plans that have forgiveness options.
On student aid: To help cover the non-tuition costs of college – such as room and board, books and transportation – O'Malley suggested increasing Pell Grant awards to cover "the bulk of non-tuition costs" for needy students, as well as tripling the federal work-study program to reach two million students. O'Malley also said the Federal Work-Study Program should be modernized to make jobs career-focused.
Bernie Sanders (I-VT):
On debt-free college: In April, the Vermont senator (who identifies as an Independent, but is running for the Democratic nomination) proposed making four-year public colleges tuition-free. The $70 billion-a-year plan – including two-thirds federal and one-third state funds – would be offset by a tax on Wall Street transactions, Sanders said. "We have a crisis in this country," Sanders said. "Too many of our young people cannot afford a college education and those who do go to college are faced with crushing debt."
On student loans: As part of his higher education platform, Sanders also proposed allowing students to refinance their loans and eliminating federal profits on loans. "Countries like Germany, Denmark, Sweden and many more are providing free or inexpensive higher education for their young people," Sanders said. "They understand how important it is to be investing in their youth. We should be doing the same."
On financial aid: During a speech at Liberty University in September, Sanders criticized Republicans for pushing a budget that would cut funding for Pell Grants, according to Young Invincibles. "At a time families cannot afford to send their kids to college, Republicans voted for $90 billion in budget cuts to the Pell Grant over a 10-year period … all while the Republicans provided over $250 billion over a 10-year period in tax breaks for the top two tenths of one percent," Sanders said. "I don't think that is a moral budget." [Updated 9/16/15]
Jim Webb [Ended bid for Democratic nomination 10/20/15]:
On student loans: When Webb announced his candidacy this month, he said student loan debt is one of three challenges the country is facing when it comes to education, in addition to supporting Pre-K programs and addressing the issue of high school dropouts. Student loan debt, Webb said, "is hanging over the heads of so many of our talented young people who must mortgage their futures in order to have one."
Jeb Bush [Dropped out of the race 2/20/16]:
On college cost: According to Bloomberg Politics, Bush said during an event in Nevada in June that part of the reason college costs so much is because students take too long to graduate. Bush said students have "the French work week," with a 12 credit hour course load, rather than 15 credits. In March, Bush also said American higher education "has a growing affordability problem while billions in the developing world struggle with accessibility." Bush said technology could help bring down the cost of college "at home and abroad."
On debt-free college: Responding to Martin O'Malley's plan for debt-free college, Bush said the idea is just "more free stuff." "I think the focus ought to be on how we reform higher education so that full-time students can get a four-year degree in four years and they'll be able to access a job because we'll have a higher-growth economy than the one that he's probably proposing," Bush said.
While stopping short of embracing President Obama's plan for tuition-free community college (in fact, he criticized the plan when it was first announced in January), Bush said during an August press conference that he supported the state plan in Tennessee that inspired it. During the same press conference, Bush said colleges need to have "skin in the game" in terms of student outcomes. [Updated 9/16/15]
On student loans: After Democratic candidate Hillary Clinton released her higher education platform, Bush took to Twitter to criticize the growth of student loan debt under President Obama. "100 percent, the increase in student debt under this Democratic White House. Hillary Clinton: mortgaging the future of college grads for four more years," Bush tweeted, along with a graphic.
In his higher education platform, released January 18, Bush said he would eliminate the current federal student loan system for future borrowers, instead offering college students Education Savings Accounts and a $50,000 line of credit, which they would repay through a portion of their future incomes, based on how much money they used. For borrowers with existing debt, Bush proposed expanding access to income-driven repayment. [Updated 1/19/16]
On student outcomes: In his higher education proposal, Bush said he intends to create state databases with information on certain metrics of student outcomes, including graduation rates, unemployment rates, average earnings, and debt repayment rates of different academic programs. [Updated 1/19/16]
On accountability: Bush also outlined in his higher education platform a plan to require colleges to have "skin in the game" when it comes to student loans. The idea of institutional risk-sharing has gathered steam among presidential candidates and lawmakers, and is seen as a way to give institutions an incentive to lower their costs if they are held accountable for repaying a portion of their graduates' student loans if the borrowers are unable to repay. [Updated 1/19/16]
Ben Carson [Dropped out of the race 3/4/16]:
On free community college: In a February op-ed for The Washington Times, Carson said free community college is only free "if no one has to pay for it," arguing the proposal would still come at a cost. "It is not free if we rob Peter to pay Paul," Carson wrote. Carson also argued that the cost of community college is already lowered for low-income students through Pell Grants. "For those who are not needy, there is an old-fashioned remedy that is very effective called work," Carson said. "In fact work might even be beneficial for those who are needy. It certainly provided some very valuable experiences for me."
Chris Christie [Dropped out of the race 2/10/16]:
On debt-free college: In June, Christie gave a speech at Iowa State University that detailed his plans for higher education reform. Free college, he said, "is a typical liberal approach." "It is wrong, and we know it. There are always costs involved, and if college graduates are going to reap the greater economic rewards and opportunities of earning a degree, then it seems fair for them to support the cost of the education they're receiving. Earning a degree should actually involve earning it," Christie said.
On federal student aid: In the same speech, Christie suggested increasing funding for the Federal Supplemental Educational Opportunity Grant program and for Perkins Loans. He also suggested giving students grants in exchange for community service, and implementing income-share agreements similar to a proposal Sen. Marco Rubio has touted.
On innovation: Christie said there needs to be more innovation in higher education, and that the system should move away from a strictly four-year brick-and-mortar model to allow for other options, such as apprenticeships and credit for prior learning. "The world is changing – and education ought to change with it," Christie said.
In an interview on Morning Joe in August, Christie said he'd like to see college tuition unbundled, so students and parents can pay for what they want. "Have you ever seen a more opaque bill than the college bill? It's three lines. Tuition, room and board, other fees, $62,000," Christie said. If you got a bill like that at a restaurant, if you went to a restaurant and had $150 and it just said food, $150, you'd send the bill back to the waiter and say tell me what I'm charged. But instead we, who pay college costs, those three lines, we write it. They should have to detail what they're spending their money on and secondly, they should be able to unbundle it." [Updated 9/16/15]
Ted Cruz (R-TX) [Dropped out of the race 5/3/16]:
On higher education: The Texas senator has not yet formally announced platforms related to higher education and student aid, but he has in the past called for the elimination of the Department of Education, and voted against legislation – introduced by Sen. Elizabeth Warren (D-MA) – that would allow students to refinance their loans. In terms of student loan debt and financial aid, Cruz has frequently cited his own debt in speeches. Cruz has also said that federal aid, including student loans, should be in control of states, not the federal government.
On affirmative action: In an interview with Buzzfeed, Cruz said he's against affirmative action, which he said could lead to unintended negative consequences. "We see it now with colleges in California … negative quotas against Asian students because academically they're excelling," Cruz said.
On student loans: In an interview with Skimm, Cruz said he understands personally the burden of student loan debt. "I just paid off my student loans five or six years ago," Cruz said. "Economic growth is critical to young people because if we want this generation to be able to pay off their loans and develop the skills to live the American dream, we've got to return to an environment where small businesses are growing and flourishing, and creating jobs and opportunities. That's my top priority." [Updated 8/12/15]
Carly Fiorina [Dropped out of the race 2/10/16]:
On student loans: In an interview with Breitbart, Fiorina said the federal government has "nationalized the student loan business" by limiting competition. Fiorina said she would resolve the issue by reinstating free market competition to the student loan industry and by expanding choice in higher education through the use of MOOCs, and beefing up the accreditation system.
In Iowa in August, Fiorina said the government is responsible for the problem with student loan debt, and that it has "nationalized" the industry. "The federal government basically owns that industry and they decide what interest rates should be, so they say it should be 4.5 to 6 percent," Fiorina said. "Meanwhile the government is paying between 1.5 and 3 percent interest on their own debt. Kind of sounds like a racket for me." [Updated 8/20/15]
Lindsey Graham (R-SC) [Dropped out of the race 12/21/15]:
On student loans: During a campaign event in Des Moines in June, the South Carolina senator said he would "absolutely" support student loan refinancing. "Rather than having the Department of Education being the only bank, I would allow more people to compete for student loan business, because the more competition for your business, the better off you are," Graham said.
Mike Huckabee [Dropped out of the race 2/2/16]:
On college cost: On his campaign website, Huckabee says the rising cost of college "threatens middle class families, students and the American dream." "For too many, college is where students discover mountains of debt – but not a lifelong career," his website says. "We must tackle the establishment and reform our colleges and universities so they make sense for the jobs of tomorrow."
On student loans: At a campaign event in Indianola, Iowa, in June, Huckabee said students should be able to refinance their loans and take advantage of low interest rates. He said there should be a way for students to refinance their loans the same way auto or home loans can be refinanced.
On higher education: Huckabee is another Republican candidate who has suggested eliminating the Department of Education.
Bobby Jindal [Dropped out of the race 11/17/15]:
On higher education funding: Over the past several years as governor of Louisiana, Jindal has passed state budgets cutting millions of dollars from higher education. In 2014, however, Jindal signed legislation that created a $40 million Workforce and Innovation for a Stronger Economy (or WISE) Fund, which encourages competition among schools based on the credentials they produce in in-demand fields.
On student loans: According to audio from Young Invincibles, Jindal said the federal government has a monopoly on student loans, during a town hall meeting in Iowa. "We need to break up the monopoly and provide more competition so that you can choose where you borrow your money from and you can have different and better repayment options."
John Kasich [Dropped out of the race 5/4/16]:
On college funding: As a presidential candidate, Kasich has not yet taken an official stance on many higher education issues. But as governor of Ohio, Kasich earlier this year threatened to "take an ax" to state higher education funding if college and universities failed to cut their costs.
On student loans: In his state budget proposal, Kasich suggested creating a $120 million debt relief fund for students who graduate from an Ohio public college or university and take an in-demand job after graduating. More recently, however, when Kasich was asked what he would do about the national student debt problem at a town hall meeting in New Hampshire, he said he didn't know and would have to look into it.
On college affordability: Kasich increased funding for higher education in Ohio by 2 percent in 2016, and at the same time put a 2 percent cap on how much universities can raise their tuition in that year, with a plan to completely freeze tuition in 2017. [Updated 8/20/15]
George Pataki [Dropped out of the race 12/29/15]:
On student loans: The former New York governor has said federal student loan interest rates are too high and that the government should not profit off of them. "The government should not make a profit off the backs of students borrowing to advance their education," Pataki said.
On college cost: Similarly, Pataki said in July that college "is way too expensive" and that colleges and universities "have gotten used to the fact that students don't object" to higher tuition costs because they pay for it through student loans.
Rand Paul [Dropped out of the race 2/3/16]:
On the Department of Education: The senator from Kentucky has repeatedly called for eliminating the Department of Education and allowing states to take control of funding for higher education. "That $100 billion gets rolled around in a big bureaucracy," Paul said last year. "They sent rules down that don't help education, they hinder innovation. I would cut them out of the loop. I don't think you'd notice if the whole department was gone tomorrow."
On college cost: In a speech in Iowa this April, Paul responded to President Obama's call for free community college by saying tuition should be tax deductible.
Rick Perry [Dropped out of the race 9/11/15]:
On college cost: In 2011, the former Texas governor garnered national attention when he pushed a plan to implement a "$10,000 college degree" at institutions across the state. In total, a relative handful schools signed on, and made a $10,000 degree possible in a variety of ways, from allowing students to earn credit in high school, to creating accelerated programs. ""A $10,000 degree provides an opportunity for students to earn a low-cost, high-quality degree that will get them where they want to go in their careers and their lives," Perry said in 2012.
On student loans: When he announced his 2016 presidential bid in June, Perry said he would address the student debt problem. "I know you face rising health care costs, rising child care costs, skyrocketing tuition costs, and mounting student loan debt. I hear you, and I am going to do something about it," Perry said, although he has not detailed how he plans to address student debt.
Marco Rubio (R-FL) [Dropped out of the race 3/15/16]:
On college affordability: The Florida senator last year introduced the idea of implementing a "Student Investment Plan" that he says would allow students to attend college without taking out student loans. Under the proposal, an investor would pay the student's tuition, which the student would repay as a percentage of his or her income over a fixed amount of time. The plan would take into account the student's major, type of institution and academic record.
On student loans: In the same proposal for higher education overhaul, Rubio suggested making income-based repayment the default option for all student loan borrowers, saying the several existing repayment plans are "terribly insufficient and replete with unintended consequences." "Many graduates don't even know the programs exist, making them extremely underutilized," Rubio said.
On financial aid: In the 2013 GOP State of the Union response, Rubio said it's important to focus on "strengthening and modernizing" financial aid programs, not just "spending more money on them." Rubio referenced the increasingly diverse nature of the college-going population, saying the country's higher education system needs to adjust to accommodate different students, such as veterans, as well as older and working students who often have families. "We need student aid that does not discriminate against programs that non-traditional students rely on – like online courses, or degree programs that give you credit for work experience."
On innovation: In an August post on Medium, Rubio wrote that the nation's higher education system is "antiquated and broken in multiple ways," and said ensuring every American can earn an affordable college degree that leads to a good job will be a priority if he's elected. Rubio said he would solve the problem by promoting "choice, competition, greater access, and lower costs," partly through proposals he's put forth as a senator. One way he said he hopes to reach that goal is by reforming the accreditation system to allow for more innovation in higher education, such as through online programs. "This would transform higher education by exposing it to the market forces of choice and competition, which inevitably bring down prices for consumers," Rubio wrote. "It would give rise to new ways of earning a degree or certification." [Updated 8/20/15]
Rick Santorum [Dropped out of the race 2/3/16]:
On college access: The former Pennsylvania senator in 2012 called President Barack Obama a "snob" for implying that all Americans should go to college. Santorum defended his comments by saying some people have no desire to go to college.
Donald Trump:
On student loans: In an interview with The Hill, Trump questioned why the government profits off of student loans, and said he could help students struggling with debt. "That's probably one of the only things the government shouldn't make money off – I think it's terrible that one of the only profit centers we have is student loans," Trump said.
On international students: Trump, who has in the past suggested building a wall on the border between the United States and Mexico, in August said in a tweet that foreign students who attend colleges and universities in the United States and wish to stay after graduating should not be deported, according to Inside Higher Ed. "I want talented people to come into this country -- to work hard and to become citizens. Silicon Valley needs engineers, etc.," Trump said in a tweet. [Updated 9/16/15]
Scott Walker [Dropped out of the race 9/21/15]:
On higher education funding: Walker did not go into detail about his plans for higher education during his campaign announcement earlier this month. However, he recently signed the Wisconsin state budget, which includes a $250 million cut to higher education over the next two years.
On for-profit colleges: Walker's state budget proposal included the elimination of Wisconsin's Education Approval Board, which oversees for-profit colleges. Walker said it would "decrease the regulatory and fiscal burden on private, for-profit schools."
On student loans: According to audio from Young Invincibles, Walker said he plans on announcing a proposal for institutional risk-sharing, during a student debt town hall in Cedar Rapids. Under his proposal, Walker said institutions would take on "not all, but a small percentage" of a loan as an incentive to keep their tuition down. Walker also said it's important "to look at people who already have high levels of student loan debt," and help relieve that burden.
Stay tuned to Today's News for updates as candidates continue to reveal proposals related to higher education and student aid.
Publication Date: 8/12/2015
---