ED: Student Loan Cohort Default Rate Drops Across the Board
By Allie Bidwell, Communications Staff
For the second year in a row, the national three-year student loan cohort default rate – as well as the default rates for public, private nonprofit, and private for-profit sectors – ticked down, according to new data from the Department of Education (ED).
The data – released Wednesday – showed the national default rate dropped from 13.7 percent for borrowers whose loans went into repayment in FY 2011 to 11.8 percent for the FY 2012 cohort. The federal default rate measures the percentage of borrowers who entered repayment between Oct. 1, 2011 and Sept. 20, 2012, and defaulted on their loans before Sept. 30, 2014. In other words, the rate captures the percentage of borrowers who defaulted within three years of entering repayment.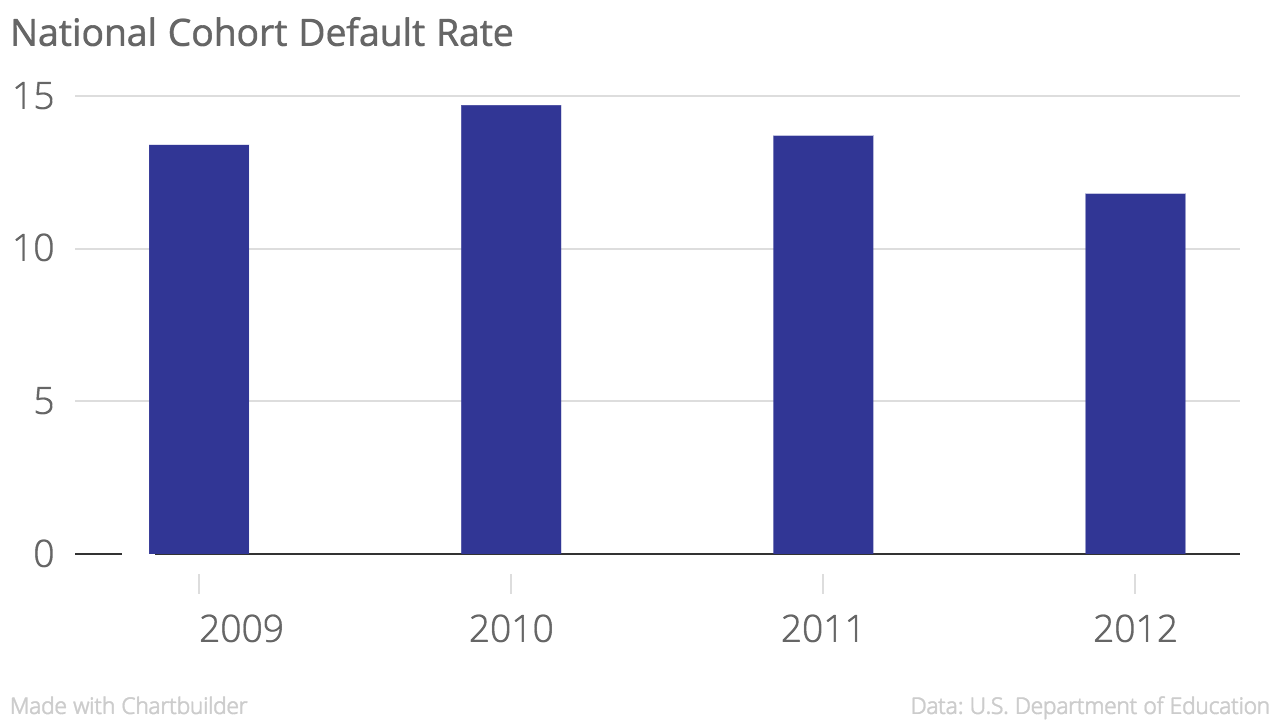 During that window, more than 5.1 million borrowers nationwide entered repayment, compared with about 4.7 million in the previous cohort. And although the overall number of borrowers who entered repayment increased for the 2012 cohort, the absolute number of borrowers who defaulted decreased, perhaps an indication that ED's efforts to increase the usage of income-driven repayment plans is working.
In a statement, Education Secretary Arne Duncan credited the decrease to several actions the Obama administration has taken to relieve the burden of student loan debt, including implementing the Student Aid Bill of Rights, launching the new College Scorecard, and expanding outreach to borrowers about income-driven repayment options.
"The Obama Administration has taken historic steps to give borrowers more options to manage their student debt and stay on track to repayment and to hold institutions accountable for improving student outcomes," Duncan said. "However, even with these promising signs of progress, we know much work remains ahead. I hope that Congress will join us in efforts to improve student outcomes and improve accountability in higher education."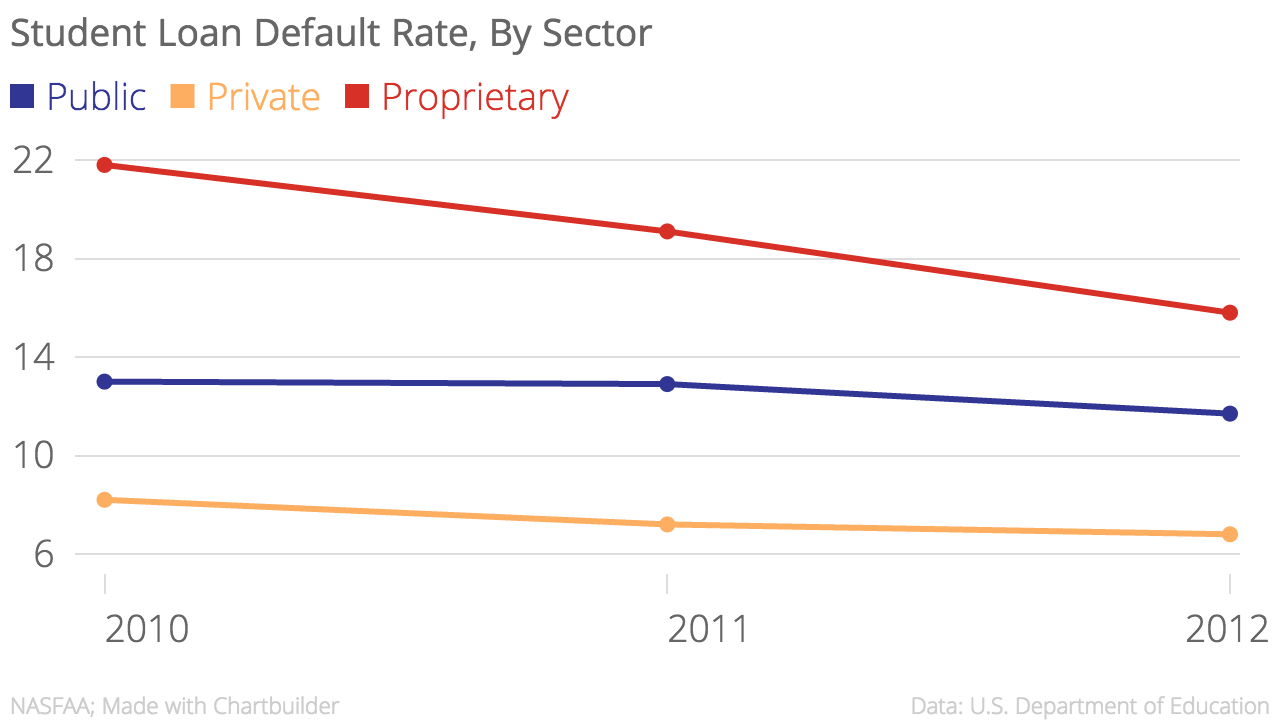 The default rate also dropped within each sector of higher education. For public institutions, the default rate dropped from 12.9 percent for the 2011 cohort, to 11.7 percent for the 2012 cohort. The private sector default rate dropped from 7.2 percent to 6.8 percent, and the proprietary sector default rate dropped from 19.1 percent to 15.8 percent.
But individual institutions with default rates 30 percent or higher for three consecutive years, greater than 40 percent for one year – or both – are subject to sanctions, including a loss of eligibility for one or more federal student aid programs. Under the new data, two public community colleges, one private nonprofit institution, and 12 for-profit institutions are subject to sanctions, unless they successfully appeal to ED.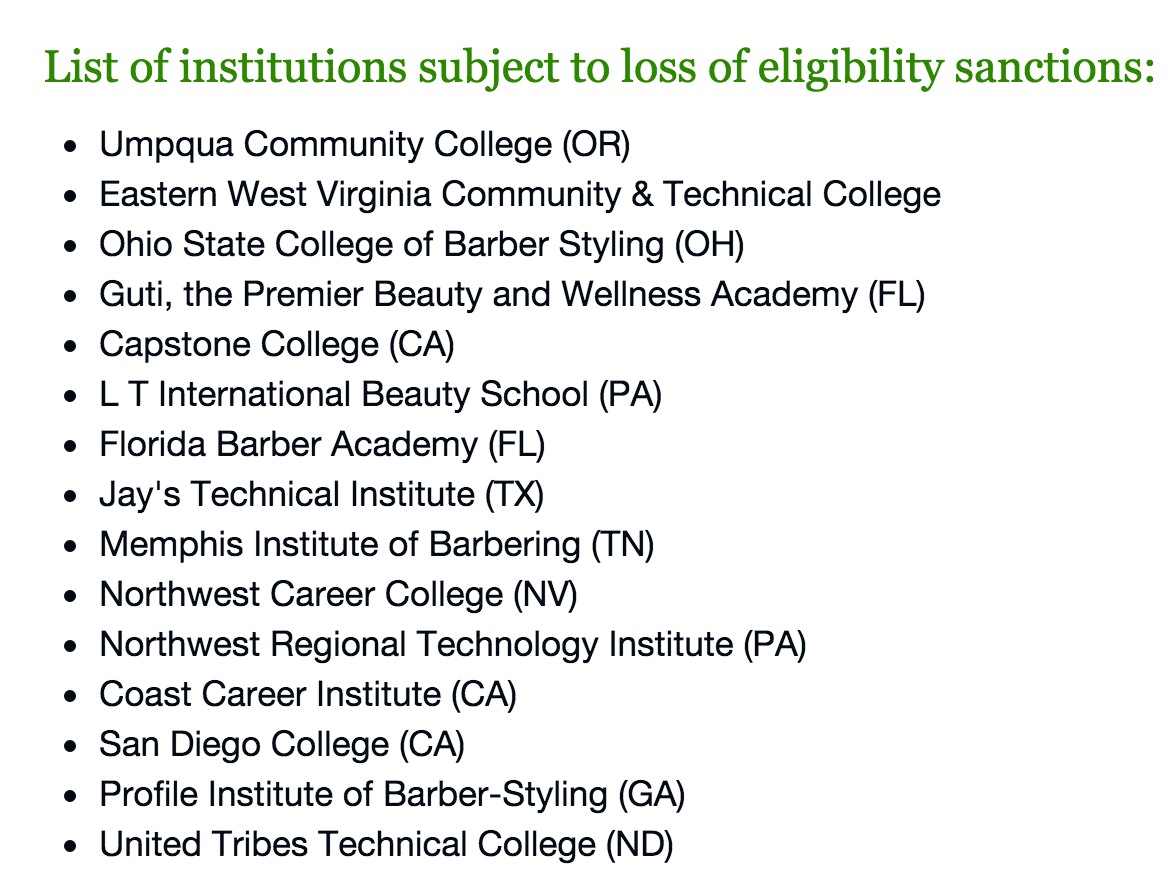 ED also published default rates by state. Massachusetts had the lowest default rate, at 6.4 percent, while New Mexico had the highest, at 20 percent.
Debbie Cochrane, research director at TICAS, noted that it's also important to look at a school's borrowing rate – in addition to its default rate – to put the likelihood of defaulting into perspective, because at some schools very few students borrow.
"At schools with both high borrowing rates and high default rates, too many students are leaving school worse off than before they started," Cochrane said in a statement. "When borrowing isn't the norm, high default rates are troubling but say less about the school as a whole."
Publication Date: 10/1/2015
---