MVP Gina Soliz

MVP: Most Valuable Professional is an occasional series that features a brief Q&A with a different NASFAA member. Do you know a financial aid colleague with something interesting to say? Send the names of potential future MVPs and a short note about why you're nominating them to [email protected].
Gina Soliz
Director of Financial Aid
Syracuse University's College of Law
(Syracuse, NY)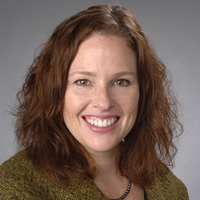 Meet Gina Soliz, director of financial aid at Syracuse University's College of Law. Gina's career in financial aid started by being in the right place at the right time. Prior to starting a masters program at Syracuse in 1992, Gina traveled to upstate New York to get her housing and financial aid squared away. She got to campus around noon and decided to wait in her car until after the financial aid office's lunch break. At 1:00 pm, Gina went into the office to apply for a student loan when she was told that the office's graduate assistant had just quit moments earlier and was asked if she'd like to apply for the position instead. "If I had gone to the financial aid office 30 minutes earlier, I would have had loan debt instead of a new job!" Gina said. Gina currently serves as the chair of the Graduate and Professional Issues Caucus and the chair of the Consumer Information & Law Student Indebtedness Task Force.
What was the best thing that happened to you this week? My neighbor from across the street came over and cleared the snow out of my driveway. Average seasonal snowfall in Syracuse is nearly 200 inches.
If you could have three wishes granted, what would they be? For Syracuse University men's basketball team to win another national championship under Coach Boeheim; that my Powerball numbers on 1/13/16 had been 4-8-19-27-34 and 10; and that I was a really good singer.
What's one thing you would change about the current financial aid system? I would like financial aid to be less complex for students. For example, there must be a happy medium we can find so that borrowers have affordable loan repayment options without being overwhelmed and confused by all the choices and nuances of those options (and potentially make an expensive mistake if they choose poorly).
What NASFAA service/product is most helpful to you? I can't pick just one! It is a tie between the annual conference, the Grad/Professional School Listserv, and the Student Aid Index.
What has been your most motivating financial aid experience to date? Early in my career at a state NYSFAAA conference when I saw my boss and mentors receiving service awards. I could see their commitment to the profession and the impact they had on it. They inspired me to volunteer for committees, run for regional and state office, develop my job into a career, and never to lose focus on doing what is best for students.
If you could learn any skill, what would it be? To play the cello.
What's the biggest financial aid change you've seen? It's probably on the horizon – prior-prior year (PPY). The change to PPY should help families apply for aid using the IRS's data-retrieval tool (DRT), should streamline verification, and could shift the cycle of when schools package and notify students of their financial aid eligibility.
What book or movie would you recommend? Any book by Ruth Reichl – I loved her novel Delicious!, published in 2014.
What's on your desk right now? My cup of hot tea and an old-fashioned composition book. I use that book to keep track of students that I'm working with and to keep projects organized. I like using composition books more than other planners because none of the pages can get ripped out and lost.
What's your favorite thing about your job? Helping students!
Want to say hello to Gina or reply to something she said? Please leave your remarks in the comments section below. You can also take a look back at our past MVPs to read any you missed the first time around.
--------
Do you know a financial aid colleague with something interesting to say? Send the names of potential future MVPs and a short note about why you're nominating them to [email protected].
Publication Date: 1/29/2016
---