MVP Mary Nucciarone

MVP: Most Valuable Professional is an occasional series that features a brief Q&A with a different NASFAA member. Do you know a financial aid colleague with something interesting to say? Send the names of potential future MVPs and a short note about why you're nominating them to [email protected].
Mary Nucciarone
Director of Financial Aid
University of Notre Dame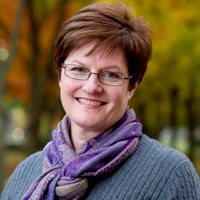 Meet Mary Nucciarone, director of financial aid at the University of Notre Dame. Mary started her career in financial aid more than 30 years ago as a temporary employee at St. Mary's College in Notre Dame, IN. Although she was initially hired to organize the college's student employment program, she stayed on when a receptionist position became available, describing it as a way "to learn more about the opportunities in higher education." "I loved that every day was different, I was able to work with students and there was a complexity to the work that provided the opportunity to solve problems, do research, work with finances, and use my organizational and communications skills," she said. Mary eventually became the director in 1992, and moved to the University of Notre Dame in 2004.
What's on your desk right now? Planning tools for communicating and transitioning policies and procedures for the Early FAFSA, the Lumina Foundation Report, "A Stronger Nation," the NASFAA publication on the new compliance tool, and a long list of things to do!
Glad I did it but wouldn't do it again: Climbing out on the ledge of the Pearl Tower in Shanghai with two other great colleagues and having our picture taken just to say we did it!
My idea of a perfect day: My perfect day would start by waking up without an alarm to a cool, sunny day and have time for coffee and reading the paper. I'd have time to spend with my family and go to work because I want to and not because I had to. To work with my colleagues and families with unlimited resources and to realize how blessed I am to have a job, friends, health and family.
One thing working in financial aid has taught me: Change is inevitable, especially in financial aid. To be in this profession you need to be flexible, adjust quickly and communicate effectively so others are aware, trust your ability to make the change, and always keep the student at the center of your work.
What was the best thing that happened to you this past week? Helping to create a network for a new first year student who lived in the slums of another country, was adopted and then abused by foster parents to create a plan to come to Notre Dame. I shared parts of his story with trusted colleagues on campus and they have reached out to him and made him feel welcome. He shared that he's never had that experience in life – to know and belong to a loving and accepting community.
What is the hardest thing you have ever done? To learn I had cancer, go through treatment and say I'm a survivor.
My favorite thing about my job is: My favorite thing about my job is working with students who didn't believe it was possible to go to college and they achieve their dream of graduating.
One thing I would like to change about the current financial aid system is: A system that is fair, equitable and predictable. I believe we have lost those values. The loss of these values makes the goal of helping low income and/or first generation students believing they can access college more challenging than ever.
What NASFAA service/product is most helpful to you? The NASFAA's Today's News is my favorite as it keeps me updated and provides articles that I can share with others within my department and with a wider group of colleagues at Notre Dame. The NASFAA compliance tools have always been something I have used as well.
Favorite quote or song lyric: Nelson Mandella: "Education is the most powerful weapon which you can use to change the world."
Want to say hello to Mary or reply to something she said? Please leave your remarks in the comments section below. You can also take a look back at our past MVPs to read any you missed the first time around.
--------
Do you know a financial aid colleague with something interesting to say? Send the names of potential future MVPs and a short note about why you're nominating them to [email protected].
Publication Date: 8/15/2016
---