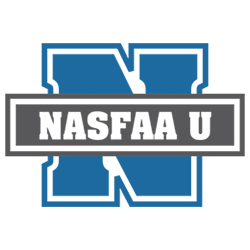 What is the format of a NASFAA U course?
NASFAA U online courses provide live instruction combined with weekly reading assignments, learning videos, discussion forums, and learning assessments. Lessons open on a weekly basis. Each course typically ranges from 3 weeks to 8 weeks of virtual classwork, and then an additional 40 days dedicated to the credential testing period, unless otherwise noted.
Upon successful completion of the required coursework, qualified learners will either be given complimentary access to take a credential test in the course subject area, or receive a certificate of completion.
There are usually two live class meetings, or "Get-Togethers" held each week. Attendance in these live classes is optional. They are recorded for on-demand viewing by the course attendee. While attendance is optional, we do encourage attending due to the highly collaborative nature of the courses.
What is the time commitment of a NASFAA U course?
The time commitment is variable, but you can expect to spend an average of 6 to 8 hours a week on a course. The time commitment will vary based on your prior knowledge of the course topic, your experience and comfort level in the online course environment, etc. NASFAA U courses vary in length from three to eight weeks, depending on the topic. Course assignments have scheduled weekly due dates with all assessments due no later than the course end date.
What is the reward of taking a NASFAA U Course?
These highly collaborative courses will allow you to learn from highly-qualified NASFAA U instructors and adjunct faculty, as well as your peers in the financial aid industry. These courses are excellent tools for professional development and will greatly enhance your knowledge of the course topic, improve your job performance and service to students, provide tangible evidence of your knowledge for employers, differentiate between you and less qualified personnel, as well as provide you and your organization a competitive edge.
You also have the opportunity to earn a NASFAA Professional Credential, or NASFAA U Certificate if you successfully complete the course.
What is the cost of the Credential Test?
The credential test is complimentary if you successfully complete the course requirements.
How long will I have to take the credential test after the course is over?
You will have 40 calendar days from the end of the course to complete the credential test.
How do I sign up for a course?
Select a course from the menu of available online courses. Press the Register button associated with the course you'd like to take. You will need to complete the registration process and submit payment by credit card. You will receive an e-mail acknowledgement when your registration is complete with instructions on how to access your course.
What is the Cancellation Policy?
We limit our online class size to ensure that we provide an effective, collaborative learning environment where participants receive experience and attention they need. Requests to cancel must be sent to [email protected]. Medical emergencies will be re-scheduled to another available course with a doctor's note.

By submitting your registration, you agree to the following Cancellation Policy:
$25 cancellation fee
$50 cancellation fee within 48 hours of first day of class
$0 refund the day that the course begins
If you do not cancel before 6:00AM on the day of the scheduled first day of the class, you will be responsible for the full amount of the registration fee. Medical emergencies will be re-scheduled to another available course with a doctor's note. Please feel free to contact [email protected] for technical questions or concerns about attending an online course.
How do I gain access to the online course site?
You will receive a confirmation email after registering for a course that will include a link to access the course through our online instructional platform. If you are new to NASFAA U courses, you will be prompted to set up an account during the first sign-in process. Once you have logged in, you can create your profile, and upload a photo of yourself. This profile is only used on the NASFAA U online course platform during online courses.
Can our office participate in the online course as a group?
No. Unlike webinars which are purchased at the institutional level, NASFAA U online courses are intended for individual learners. Each course participant must be registered individually to access live class sessions and lesson content.
Can I access the course site before the class is scheduled to begin?
The course usually becomes available to registered attendees on Friday of the week prior to the official start date. You will receive an email to inform you when the course is available and provide login information.
What if I can't begin on the first day of class or have work interruptions during the class?
While we understand that conflicts may arise that interrupt your ability to participate in the course, you are expected to complete NASFAA U online courses by the last day of the course, as indicated in the syllabus. If you register after the start date of any NASFAA U Courses, you acknowledge that you may have already missed one or more live get-togethers and are still responsible for completing the assigned readings and assessments by the due dates. All get-togethers are recorded for on-demand viewing.
An extension of this timeframe is only considered in extreme circumstances via an appeal process at least five days prior to the course end date. Appeals may be sent to [email protected] and should include:
A written statement as to the circumstance that prohibited course completion;
Supporting evidence of that circumstance (physician statement, human resource statement, and/or other documents); and
Requested extension period.
Appeals will be evaluated within three business days of receipt and you will be notified of the decision. If approved, you will receive an extension for the completion of the course's assessments. The deadline for completion of the credential test remains 40 days after the last official day of the course, as indicated in the syllabus. There is a separate appeal process for an extension of credential testing.
Do I have to be online at the same time as the other class members and faculty?
No. Our course site is available to you 24/7 for the duration of the course. Participate at a time convenient to you during the class schedule. Although you must complete online courses by the last day of the course, participants are most successful when they follow the weekly assessment deadlines, as indicated in the syllabus. We do recommend that you attend our live Get-Together sessions if possible, but they will be recorded for on-demand viewing by our course attendees.
Will I lose access to the course site the day after the course ends?
No. You will be able to revisit the course site during the 40 day credential testing period so that you can review readings, discussions forums, and other course content/material; however, no assessments may be submitted after the course end date.
Will my course results be shared?
Course results will not be released to anyone other than the participant without the participant's written permission.
What is the difference between NASFAA Professional Credentials, the Certified Financial Aid Administrator® (CFAA) Program, and NASFAA U Certificates?
The chart below depicts the differences among these professional development opportunities.
Professional Credentials

Certified Financial Aid Administrator® (CFAA) Program

NASFAA U Certificates

Focus

Professional Credentials are a deep dive into regulatory areas associated with the administration of Title IV Aid.

The Certified Financial Aid Administrator® Knowledge Exam assesses the broader knowledge required of a financial aid administrator across multiple subject areas.

NASFAA U Certificates are professional development opportunities aimed at expanding managerial, leadership, and other competencies associated with financial aid administration and related student services professions that rely on student financial aid.

Pathways

Any of four possible pathways help you gain access to a specific credential test:

(1) Complete independent study of the topic using a Self-Study Guide; (2) Successfully complete the instructor-led NASFAA U Online Course for the topic; (3) Demonstrate five or more years of well-rounded professional experience; or (4) Attend a NASFAA AE that uses the approved NASFAA curriculum for the credential topic.

The CFAA Program application verifies you meet the eligibility criteria — that is, the education, experience, and commitment to ethical behavior — necessary to qualify to take the Certified Financial Aid Administrator® Knowledge Exam.

Open. There are no prerequisites to take the instructor-led online courses associated with NASFAA U Certificates.

Assessment

To earn a credential, you must pass the corresponding credential test.

To become certified, you must qualify for and pass the Certified Financial Aid Administrator® Knowledge Exam.

To earn a certificate, you must successfully complete and pass the online course for the certificate offered.

Continuing Education Requirement

None. If you choose, you may renew any of your Professional Credentials to demonstrate continued competency despite regulatory changes over time.

Certified individuals must recertify every three years, which requires accumulating recertification points by completing various professional development activities.

None. If you choose, you may renew any of your NASFAA U Certificates to support your ongoing professional development needs.
What if I have additional questions or concerns?
Please direct additional questions to [email protected].