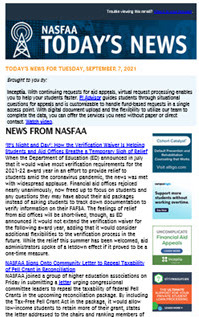 Our daily email newsletter, Today's News, has a circulation of nearly 26,000 subscribers and is rated by members as the most valuable service NASFAA provides. NASFAA members rely on Today's News to get the latest updates on student aid legislation, regulations, research, and job openings.
In addition to your 125 x 125-pixel ad on the right side, at no additional charge you also receive a 50-word description that is rotated daily with the other advertisers in the "Brought to You By" box at the top of the Today's News email and webpage.
Today's News Advertising Rates
January 1 - December 31, 2022
Advertisement Position

Member Rate*

(Per Three Months)

Position 1

$6,100

Position 2

$4,900

Position 3

$4,400

Position 4

$3,900

Position 5

$3,400

Positions 6 - 10

$3,000
*5% discount for 12-month contracts
Non-member pricing additional 30% premium of member rates.
Specifications
Graphics must be in .GIF, .PNG, or .JPG format.
Changes to advertisement are permitted once a month.
Graphics must be received at least two weeks prior to the scheduled start date.
All ad rates are net to NASFAA.
See advertising terms and conditions prior to finalizing your order.
Questions?
Contact Jennifer Jackson at [email protected].
Ready to place your order?
Complete NASFAA's Advertising Order Form.
Ready to submit your graphic?