The financial aid award notification process is a topic of great importance to the Obama Administration, Congress, and the U.S. Department of Education. The National Association of Student Financial Aid Administrators (NASFAA) also values the importance of clear, concise, accurate information for students and parents, and recognizes there are ways to improve award letters.

NASFAA's Award Notification & Consumer Information is charged with examining best practices in award notification and consumer information and reporting back to the NASFAA Board of Directors with recommendations on how to improve or standardize elements of an award notification.

Consumer Testing of Financial Aid Award Letters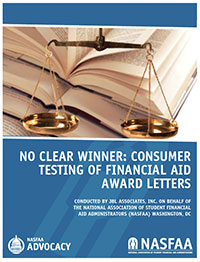 This study tried to ascertain how consumers (students and parents) would understand the information on a model or standardized award letter notification. Three types of award letters were tested, and no clear winner was found among the three.
NASFAA's Award Letter Recommendations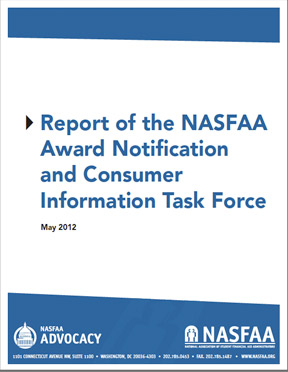 NASFAA's Award Notification and Consumer Information Task Force published a report to ensure greater transparency with award letters for students and parents.

The report accepted by NASFAA's Board of Directors provides specific elements award letters should incorporate; a glossary of standard award letter terminology; and additional consumer information that should accompany all award letters.
Additional Information and Resources