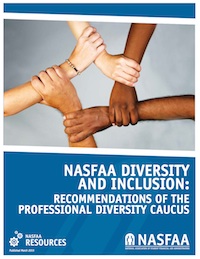 NASFAA's Diversity and Inclusion Report emphasizes the importance of diversity and inclusivity to NASFAA. Included in this report is a diversity statement developed by NASFAA's Professional Diversity Caucus, and approved by NASFAA's Board in March of 2015. The Caucus convened in the summer of 2014 to better understand issues related to diversity within NASFAA's membership and to make suggestions to the Board of Directors about ways NASFAA can best include and meet the needs of our diverse membership.
As a part of its research, the Caucus requested feedback from NASFAA members in order to identify and summarize major areas of concern. The Caucus' report to the Board includes the following:
Diversity and Inclusion Statement
Determination of goals, benchmarks, and assessments
Recommendations for attaining those goals, benchmarks, and assessments.