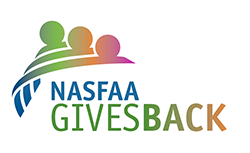 Every day financial aid administrators provide access, open doors to opportunity, and help long-held dreams come to fruition. They have a direct impact on the trajectory of students' lives — a reality that has come into sharper focus over the past two years as financial aid administrators helped many struggling students and families find a way forward.
Supporting You, Supporting Students
Thanks in part to the steadfast support of its members, NASFAA is emerging from the pandemic stronger than ever. We are grateful to be in a position to double-down on our efforts to support our member institutions, who do so much day in and day out to support their students.
Through the NASFAA Gives Back initiative, we'll be reinvesting in our members in the following ways:
Providing a one-time $600 learning credit to each NASFAA member institution to be used for NASFAA training, events, products, or services over the next 12 months.
Holding NASFAA membership dues steady — no increases — for the next two years.
Creating a scholarship to support under-resourced institutions.
Expanding the Dallas Martin Endowment to permanently fund the Diversity Leadership Program.
Rethinking our conference, with safety, affordable registration fees, and community investment in mind.
Expanding access to our certification and credentialing training.
Prioritizing strategic community-building efforts.
Plus more to come over the next 12 months.
Keep an eye on Today's News and this webpage for forthcoming updates on future NASFAA Gives Back initiatives.