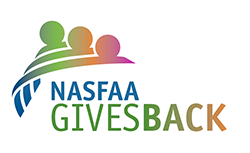 The pandemic, along with current economic conditions, have hit financial aid offices hard. Many offices have had their training and professional development budgets significantly reduced — but we're here to help.
Through NASFAA Gives Back, NASFAA offered $600 to each NASFAA member institution (2,800 or more schools in all) through a one-time learning credit. We invite you to use your funds on your choice of future NASFAA online courses, conference registration, products, or services in the next 12 months. While the disbursement may not be used to offset membership dues, it may be used toward 2023-24 package upgrades to level-up the benefits your team receives.
Primary contacts at NASFAA member institutions were emailed a link to an online form to either accept the learning credit for use by their institution during the 2022-23 fiscal year or decline the learning credit and instead donate the $600 allocated for their school to a scholarship fund NASFAA is establishing for under-resourced institutions. (The primary contact is the person at your institution who manages the NASFAA membership roster and dues.)
The decision to accept or donate was due August 31, 2022, and the learning credit must be used by 5:00 p.m. ET on June 30, 2023. At the end of the fiscal year, unused learning credit will be used to support the scholarship fund for under-resourced institutions.
Upon acceptance, the learning credit was made available within one business day. All roster members may submit a request to their school's primary contact during the online registration and purchase process for eligible training or events. The learning credit may not be applied to previous purchases or to offset membership dues.
Through this gift, NASFAA would fully cover the cost of a range of professional development opportunities for schools around the country, including:
These funds can additionally be used to offset:
Using Your Learning Credit
Once your institution's primary contact has indicated on the online form they were emailed that your institution will accept the learning credit, the credit amount available to your institution will reflect the $600 gift from NASFAA, plus any additional available credit balance your school may already have been carrying. Credit balances are listed on the bottom of the myNASFAA "Manage Organization" summary page and viewable by those identified on your NASFAA membership roster as your institution's primary and secondary contacts.
The credit amount available for transfer is also displayed on the "Cart" and "Payment" pages of the checkout process, if the credit is eligible for use for one or more of the products in the cart. This balance is viewable by all roster members at your institution.
As roster members navigate through their purchase, they can select "Request Approval to use Account Credit" for each applicable item in their cart. If the amount of your available credit is less than the amount needed for the transaction, you will be prompted to enter credit card information to cover the balance. If a roster member requests to apply all or part of your institution's credit, an email will be generated and sent to your institution's primary contact for approval.
When a credit usage request is made, the available credit is reduced by the pending amount, so that two roster members cannot submit requests for the same funds.
Credit Determination
Primary contacts can visit the "Account Credit" page of the "Manage Organization" tools in myNASFAA to view current and past credit requests, and to approve or deny pending requests.
All requests expire two weeks after submission. Primary contacts will get a reminder three days prior to the expiration if there is no recorded approval or rejection of the request.
If the credit usage is approved, the order is completed for the requestor and they will get all usual email notifications related to their purchase. If the credit usage is declined, the requestor will receive an email prompting them to return to the site to restart the transaction and purchase their item(s) using an alternate payment method, and held funds are made available for use for other purchases. If the original request included credit card information to cover any remaining balance, the card will not be charged for the full amount; the card is only charged for an approved transaction.
Please contact Membership Services via email, or at (202) 785-0453 Ext. 1, with any questions or for further guidance on using account credit balances.