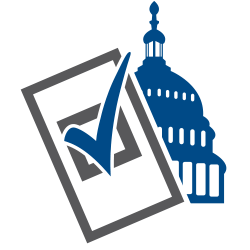 On this page, you'll find proposals to improve or modify the process by which students borrow and repay their loans.
For student loan and repayment proposals from the previous sessions of Congress, visit the Legislative Tracker Archive: Loans & Repayment.
Employer Participation in Repayment Act of 2019

H.R. 1043
Sponsor:
Rep. Peters (D-CA)
Co-Sponsors:
114 (34 R; 80 D)
Introduced:
02/07/2019

NASFAA Analysis & Coverage: This bill would expand employer-provided educational assistance programs to include employer-provided student loan repayment assistance. The bill would allow employers to offer up to $5,250 per year in student loan repayment assistance to their employees. This amount would be excluded from the employee's taxable income.

Private Student Loan Bankruptcy Fairness Act

H.R. 885
Sponsor:
Rep. Cohen (D-TN)
Co-Sponsors:
13 (0 R; 13 D)
Introduced:
1/30/2019
NASFAA Analysis & Coverage: This bill would allow private student loans to be discharged in bankruptcy.