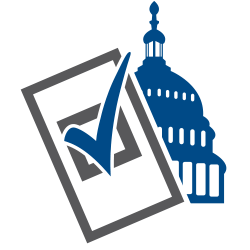 On this page, you'll find proposals focused on aid for servicemembers.
For military and veteran's aid proposals from the previous sessions of Congress, visit the Legislative Tracker Archive: Military & Veterans Aid.
Preserving Teacher Loan Forgiveness for Military Spouses Act of 2019

H.R. 1229
Sponsor:
Rep. Chabot (R-OH)
Co-Sponsors:
8 (2 R; 6 D)
Introduced:
02/14/2019

NASFAA Analysis & Coverage: This bill would protect borrowers enrolled in the Teacher Loan Forgiveness Program from being penalized if during their eligible teaching period they have to relocate because their spouse is a member of the Armed Forces.

Reducing Barriers for Veterans Education Act

H.R. 730
Sponsor:
Rep. King (R-NY)
Co-Sponsors:
35 (15 R; 20 D)
Introduced:
01/23/2019
NASFAA Analysis & Coverage: This bill would allow Post-9/11 GI Bill benefits to be used for fees for an institution's application for admission.
Return to Legislative Tracker Overview