The myNASFAA portal is divided into five tabs to make navigation and editing easier and quicker. The Contact Information tab in the myNASFAA portal stores your basic information.
Use the green edit buttons to update your information. Areas that do not include content entry boxes are not editable online. If you need to make an adjustment to an area that is not editable, please use the "Additional Notes to NASFAA" box at the bottom of the edit page.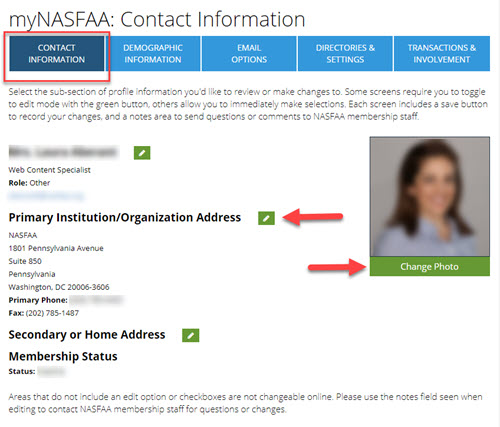 You can change or detach from your institution using the respective buttons on the edit page. When you select "Change," you will be prompted to find and select your new institution. Keep in mind that you must also update your title and email address.
You can also upload a professional photo to your profile. For best results, use the following guidelines for profile photos:
Use formatted, final images; there are no editing options within this tool.
Accepted file types include.gif, .jpg and .png.
Smaller file sizes are preferred; large files may take a long time to upload.
Images used in social media sites such as LinkedIn and Facebook may be appropriate for this use.
Users with Apple devices should take their photos in landscape format to prevent rotation.
Your photo will only display on your profile page. Directory enhancements in the future will include member photos, and the opportunity to opt-of of including them in your listing.
To confirm all of the changes you've made, you will get an email once you save your changes.