The Directories & Settings tab in the myNASFAA portal allows you to opt-in to the NASFAA Membership Directory and other NASFAA directories.
If you want to keep in touch with financial aid colleagues across the country, be sure to check the first box on this page so you are included in NASFAA's online Membership Directory. The directory lists more than 20,000 financial aid administrators and is available exclusively to NASFAA members.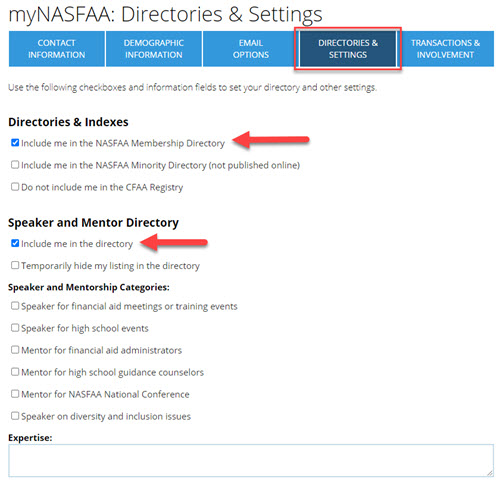 If you enjoy conducting high school financial aid nights, training, or mentoring other aid administrators, join more than 400 financial aid professionals and add yourself to NASFAA's Speaker and Mentor Directory by selecting the option(s) best-suited for you on this tab.
NASFAA members can use this directory to find a speaker for an upcoming meeting or training event and/or find a mentor to provide one-on-one guidance. Only NASFAA members are listed in the directory and only NASFAA members can access it. Inclusion in this directory does not represent an endorsement by NASFAA. Speakers and mentors add themselves to this directory voluntarily and update their own listings.