Student Loan Benefits Continue to Be in Demand Among Millennial Workers
By Brittany Hackett, Communications Staff
Employee benefits that include student loan repayment assistance continue to gain popularity among millennials, with a new survey showing that an increasing majority of young student loan borrowers would be interested in working for a company that offers such benefits.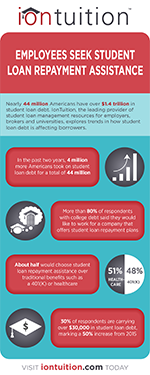 The survey, conducted by IonTuition, found that 81 percent of more than 1,000 student loan borrowers surveyed said they would like to work for an employer that offers student loan repayment plans, a 10 percent increase over the group's 2015 survey on the same subject.
The finding is not surprising, considering that the number of borrowers surveyed who carry $30,000 or more in student loan debt rose from 20 percent in 2015 to 32 percent in 2017. Nearly 75 percent of student borrowers surveyed this year reported having more than $10,000 in student loan debt, and 15 percent said they have more than $50,000 in student loans.
And while 87 percent reported being currently employed, paying off their student loan balances remains a persistent problem for those surveyed. Twenty-six percent said their monthly student loan payments were more than $300, a 10 percent increase from 2015. Thirty-one percent of borrowers are not expecting to pay off their federal student loans within the standard 10-year window of repayment, and 11 percent are not sure how long it will take to repay their debt.
In addition to the 81 percent of borrowers who said they would like to work somewhere that offers student loan repayment plans, 51 percent said they would currently prefer student loan repayment bundles over health care benefits, and 49 percent said they would prefer the same over a 401(k) retirement plan. These findings provide a strong indication that the concerns of young employees are different than in generations past, with a stronger focus on paying down the debt that is in front of them than on planning for their retirement or saving for other milestones like owning a home, according to IonTuition.
"Since employers are placing the demand on job seekers to obtain a higher education, companies can stay current by adding benefits that speak to the evolving needs of their workforce," according to the report detailing the findings of the survey. "Offering student loan benefits to employees seems like a logical way to recruit and retain high-caliber talent."
Publication Date: 7/21/2017
---