Higher Education Experts Delve Into Student Loan Default Policies
By Joelle Fredman, NASFAA Staff Reporter
Last summer, higher education researchers Kristin Blagg from the Urban Institute and Jason Delisle from the American Enterprise Institute (AEI) each released a report examining student loan defaults. While Blagg focused on new indicators of the likelihood that a borrower will enter into loan default, Delisle examined what borrowers do after they default on their loans. At an event hosted by the Urban Institute Thursday, the experts shared with a room full of congressional staffers what policymakers can do to reduce default rates based on their findings.
In Blagg's August report, she found that borrowers with collection debt in addition to student loans, such as medical, utilities, retail or bank debt, are more likely to default on their student loans. Compared to 24 percent of non-defaulters, about 59 percent of students who defaulted on their loans within four years held these types of debt, which Blagg referred to as indicators of "financial stress," in the year before starting repayment. In fact, she discovered that having utilities and medical debt increased the likelihood of default by 3.4 and 4 percentage points, respectively.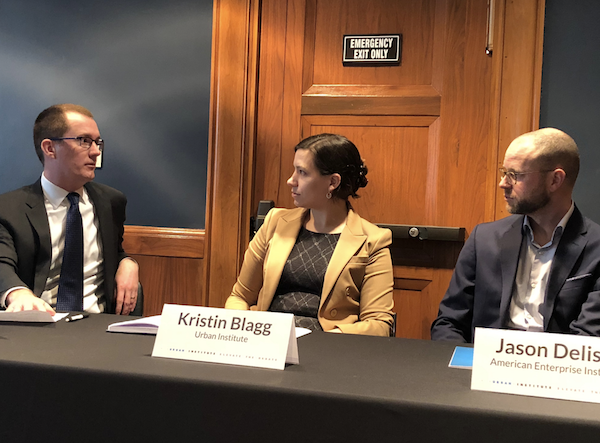 Blagg also found that borrowers in default were less likely to hold debt that required underwriting or risk assessment, such as credit card debt, a mortgage, or an auto loan, in the year preceding repayment. Having auto, mortgage, or credit card debt, she wrote, decreased the likelihood of default by 2.7, 7, and 7.3 percentage points, respectively.
Blagg explained Thursday that unlike other forms of credit, where lenders perform a risk-assessment before divvying out any funds, education loans are granted to students regardless of their credit scores or potential for default, because, she argued, "we much prefer to extend the credit than to restrict credit" to someone looking to earn a credential and better themselves. Lawmakers can use this information from her report, she said, to reach out to students in danger of defaulting on their loans to assist them in navigating repayment options, such as entering into forbearance or enrolling in income-driven repayment (IDR) plans.
"For whatever reason it doesn't seem like these IDR plans, these options, are reaching borrowers," she said.
Delisle argued, however, that the heart of the issue lies in the "maze" of options presented to borrowers after they default on their loans and the fact the penalties for default are often, as he wrote in his report, "inconsistent" and "overly punitive."
For example, Delisle explained in his report that a borrower whose wages are garnished as a result of a loan default will see around 20 percent of their earnings each month go toward collection fees, which, by the time the loan is completely repaid, can total thousands of dollars. However, a borrower who enters into loan rehabilitation after defaulting may pay a collection fee of just $9, regardless of whether he or she even pays down the whole loan.
"[We] need to treat borrowers who resolve their defaults in similar ways similarly," he said Thursday. "It's really all over the place. You may think there's some rhyme or reason to it. There's really not."
Delisle argued that the system for repayment should be much more "simple and clean and easy," and that policymakers need to make it harder for students to walk away from their debt, especially since many defaulters "tend to have small balances." He argued that policymakers should standardize collection fees, and, as he details in his report, create one process for borrowers to exit default.
Blagg and Delisle also discussed how charging interest rates on loans affects borrowers mentally, especially those in IDR plans whose timelines for repayments are extended. Blagg suggested that there be a cap on the interest for borrowers who enter into default multiple times, while Desilse argued that if the Department of Education stopped charging interest on loans for those who default, it would be treating defaulters better than those who do not default.
Publication Date: 12/14/2018
---