MVP Traci Armes

MVP: Most Valuable Professional is an occasional series that features a brief Q&A with a different NASFAA member. Do you know a financial aid colleague with something interesting to say? Send the names of potential future MVPs and a short note about why you're nominating them to [email protected].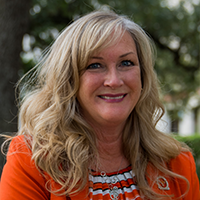 Traci Armes,
Deputy Director, Scholarships and Financial Aid
University of Texas at Austin
Meet Traci Armes. Traci got her start in higher education when she was looking to work for her local university in the human resources department, but through her interview process was directed to an opening in the financial aid office.
In the beginning, Traci worked as a phone counselor speaking with students at Indiana Wesleyan University's Adult Program. "What I loved most about it was that it wasn't routine. I had to listen to what the students' problems were, what their issues were, and then try to figure out a solution," Traci said.
Since then, colleagues have recognized Traci's leadership in the field, citing the more than 10 years she has spent serving in financial aid roles in private, community college and large public four-year institutions.
According to her colleagues, Traci's engaging presence and insightful understanding of financial aid theory has made her a resourceful leader to all in the financial aid profession.
Learn more about Traci, her interests, and her career path in the Q&A below!
How did you get your start in financial aid?
It's a little bit different, I think, than some people's. I was a stay-at-home mom for 12 years and had decided to go back into the workforce and really wanted to work at a college. I filled out some applications at the local college and I got an interview for financial aid and got the job.
I didn't realize how much I would enjoy assisting students. Every day was different and I think that's what was most exciting, there wasn't a single day that felt like every other day. There was also the challenge of learning the regulations and being able to assist students, keeping that balance between the two. I loved it and so I started learning more and more and started advancing to the point that I decided I wanted to make a career out of financial aid — and so here I am. I started back in 2008 and here we are in 2022 and I love it!
What do you find the most rewarding and fulfilling about your work?
I always look forward to graduation every year. I started at University of Texas just a couple years ago and then COVID hit, but prior to that at previous institutions, every time there was a graduation I would always volunteer to work at the graduation to help see people or help the graduates get to the stage. It was always rewarding to meet a student face-to-face that I may have assisted throughout the years.
The other rewarding part is orientation. Just going in and being able to assist and talk with parents about how they're going to help finance college for their kids, and then to talk to students about how they're going to pay for college and how they'll be able to make that degree a reality. It's always rewarding when you can come up with a solution or a plan for that student.
If you could change one thing about financial aid, what would it be?
It would be, and I see that we're starting to make some leeway, but just removing some of the barriers for high-need or even first-generation students.
I think FAFSA simplification is a step in the right direction because it seems like every step with financial aid, if you're not familiar with it, it can create a barrier for a student. Being financial aid professionals, in a way we do help remove those barriers because we are the leading experts in understanding what needs to be done for financial aid. So that really helps the students along the way, but I would like to see more of those barriers removed from even a federal or a state level.
What's something you wish all higher ed folks knew about financial aid?
I wish they understood just how complex it really is. That this isn't just going in and just processing or reprocessing, that there is just so much complexity. I couldn't tell you how many times that someone will ask me a question in higher ed about financial aid and the answer is "it depends." Because it really depends on the student, it depends on the situation, it depends on so many different factors, that we really do have to be leading experts and content knowledge experts in financial aid because of the complexity.
Tell us about your institution. What are some unique aspects of the University of Texas at Austin?
I've been with University of Texas at Austin since the fall of 2018 and I think one of the things that has struck me about the University of Texas is just how much, as a large institution where you feel like you could get lost, just how much it feels smaller because of the way that every area cares about the students, and how every area works collaboratively to assist students — especially students that really need the additional assistance.
The University of Texas really tries to look for those students, and we have some really great programs that are administered through the financial aid office to really assist those students that otherwise wouldn't be able to attend a university.
Do you have any recommendations for people just getting started in the field?
Never stop learning, because no matter how much you think you know, there's more that you can learn.
It's also important to realize what a difference you make for students. It may seem like a day-to-day call or something, but some of that advice that you give a student, you don't even realize until you meet that student later on at graduation, what impact you had on their college career.
Also, always look for a mentor within financial aid so that you can bounce things off of when you run into those difficult situations or need assistance working through such a complex environment.
Do you have a favorite sport, or are there any shows/concerts you enjoy?
If I had to pick a favorite sport to watch it would be baseball.
I love to go to movies, but especially drive-in movies just for nostalgia. Something very lighthearted, I guess, is even though I was very young, my first concert was Elvis Presley. My mom was a huge Elvis Presley fan and my daughter's actually named Presley.
What's something you couldn't function without?
In my day-to-day life, I couldn't function if I didn't have a purpose. Just thinking back to what keeps me motivated from day to day is just knowing that I make a difference in something, no matter what I'm doing. I have to feel like I make a difference in that.
What's on your bucket list, or any upcoming travel plans?
I guess most of the free time that we get we spend with family. My husband and I have three kids. One of them is graduating from college, another is in medical school, and the other one is just starting out in college. Two are still in Indiana. I'm from Indiana originally. And so we spend most of our time either traveling to Indiana or hanging out in Texas, going into the waterpark and enjoying what's around here.
Anything you've learned in the last year, or a new hobby you've picked up?
I spent a lot of time with our horse. I don't know if that's a new hobby, but I'm also working on my Ph.D., so not a lot of time for hobbies. Because it seems like any spare time I get I'm trying to get my dissertation written.
What is a goal you've set for yourself for the upcoming year?
It would be getting my dissertation written. I would love to at least get my proposal submitted by the end of this year.
Any summer plans or typical activities you enjoy in the warmer months?
I just bought season passes to Schlitterbahn, which is the waterpark here, as well as season passes to the San Antonio Zoo. So we plan on spending a lot of time between the waterpark and the zoo this summer.


Want to say hello to Traci or reply to something she said? Please leave your remarks in the comments section below. You can also take a look back at our past MVPs to read any you missed the first time around.
----
Do you know a financial aid colleague with something interesting to say? Send the names of potential future MVPs and a short note about why you're nominating them to [email protected].
Publication Date: 5/31/2022
---