NASFAA 2023 DME Policy Intern Abbie Barondess, Bids Farewell
By Abbie Barondess, NASFAA Policy Staff
Dear NASFAA community,
It feels like just yesterday I was writing my introductory article! I cannot believe how quickly my time at NASFAA flew by. As I reflect on my experiences this summer, I feel extremely grateful for the NASFAA community, who welcomed me with open arms, as well as all those who have supported the Dallas Martin Endowment and made this opportunity possible. I feel especially grateful to have been at NASFAA this summer, with so many momentous changes happening in the federal student aid space. From FAFSA simplification to student loan reform, there was no better time to be in D.C. watching the policy process play out while learning about how organizations like NASFAA play a role. My time at NASFAA brought me a greater understanding of federal policymaking, as well as a greater appreciation for the financial aid profession. I will continue to reflect on all that I have learned in the coming weeks, but for now here are some of the highlights from the summer.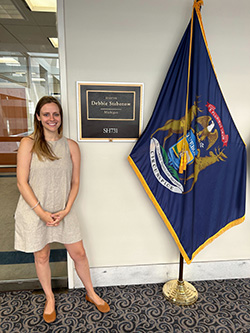 Advocacy and Government Relations
One of my favorite experiences this summer was meeting with congressional offices. These meetings served as an opportunity to build relationships and introduce NASFAA's work and priorities to members of Congress, in addition to amplifying the voices of our members and the challenges they are facing on the ground. I was able to meet with the office of Michigan Senators Debbie Stabenow and Gary Peters to speak about the student aid challenges specific to Michigan financial aid administrators and students. I also participated in an advocacy day with the Committee for Education Funding (CEF), a coalition of education associations that advocates for increased education spending from K-12 to higher education. This experience provided insight into what an advocacy campaign looks like, as well as a greater appreciation for the influence of broad coalitions in shaping policy. In addition to the CEF Hill Day, I attended their weekly meetings where I learned about the federal budget process and education spending. These meetings were particularly timely and informative as drafts of the House and Senate Labor-HHS-Education appropriations bills were released. In response to the House bill cutting education funding by 28%, my co-worker Nalia and I put together a call-to-action campaign encouraging members to contact their legislators and advocate for the continued funding of federal student aid programs.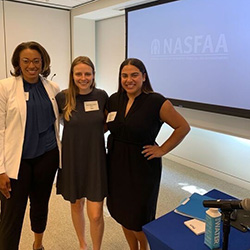 2023 National Student Aid Profile
This summer I updated NASFAA's National Student Aid Profile, an annual report that details the state of federal student aid programs. The profile serves as an important reference document for congressional offices, members, and the larger higher education community. In this process, I learned a lot about the details of federal student aid programs, such as the Public Service Loan Forgiveness (PSLF) program, as well as how to navigate higher education data sets. To supplement this knowledge, I attended a lunch and learn with the Postsecondary National Policy Institute (PNPI), focused on higher education data sets, their limitations, and analysis tools.
Policy Analysis and Legislative Tracking
One of the biggest learning curves for me at NASFAA was reading and analyzing legislative text. Due to the relationships NASFAA has built with congressional offices and the influence they hold in the student aid space, they are often sent legislative text for feedback and recommendations. I had an informative training session with our senior policy analyst Jill Desjean, where I learned how to read and interpret legislative text, as well as the negotiated rulemaking process and how the Department of Education creates policy through regulations. I was able to put these skills to the test in producing our June and July legislative tracker, translating legislative text into easily understandable summaries.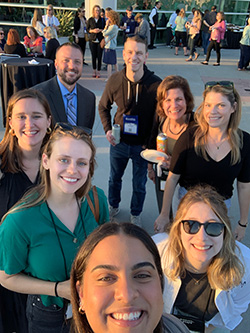 2023 National Conference
Attending the national conference in San Diego was an integral part of my time at NASFAA, as it connected the work I was doing on the policy team to our members on the ground. It was a pleasure to meet so many of our members, who despite resource constraints and ever-changing policies, continue to serve their students with care and compassion. I was inspired by their dedication and loved hearing their stories about why they got into the financial aid profession. I also got to step outside of my comfort zone and work with our communications and marketing team on a social media takeover, highlighting a day in the life at the conference of NASFAA's policy intern. The big focus this year was FAFSA simplification, and preparing our members for the upcoming changes. While we were all trying to wrap our heads around these changes, the U.S. Supreme Court (SCOTUS) decisions on race-conscious admissions policies and student loan forgiveness were released. Being in a room full of more than 2,000 financial aid administrators was surreal as we all tried to process the impacts these decisions would have on students, aid administrators, and higher education.
GE Blog
I am especially grateful for my supervisor Rachel, who encouraged me to further explore my areas of interest in the student aid space. One of those interests, higher education accountability, developed into a blog series on Gainful Employment regulations that will be published later this summer. As a college adviser, I had seen many students take on debt to enter programs with little return on investment, or programs with a lack of transparency around what return on investment students could expect. Seeing as many of my students were first-generation, and did not have the tools to research difficult to access student outcomes data, I was curious how we could improve the transparency and accessibility of this information for students in the college search process. Throughout the research and writing process, I came to understand the nuance of developing a higher education accountability framework that balances consumer protection and transparency with feasibility on the part of institutions.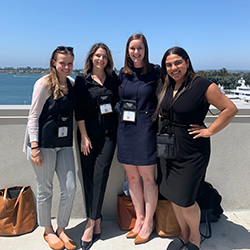 Final Reflections & What's Next
In just a couple weeks I will begin my second year of graduate school at the University of Michigan. I am excited to continue my learning in the classroom while bringing all of the skills and knowledge I have gained at NASFAA. I am especially excited to use what I have learned at NASFAA in my education policy and economic mobility class, which focuses on financial aid and accountability policy. I will be continuing my work at the Center for Education Design Evaluation, and Research, focusing on the evaluation of Michigan GEAR UP programs, and I am excited to bring the skills I gained in completing the National Profile to this work. I want to thank my supervisor Rachel and co-worker Nalia, who were wonderful mentors to me in navigating the DC policy space, as well as the entire policy team, whose expertise and knowledge continue to amaze me. I am also grateful to PNPI, who built a wonderful community of higher education interns in DC through weekly lunch and learns. This space allowed me to further process my experiences at NASFAA and connect with other interns and organizations doing work in the higher education space. My time at NASFAA has both reaffirmed my passion for financial aid policy and given me a better understanding of how member-based organizations influence policy. Thank you again to those who have contributed to the Dallas Martin Endowment and made this opportunity possible, and all of the members and NASFAA staff who welcomed me this summer!
Publication Date: 8/18/2023
---