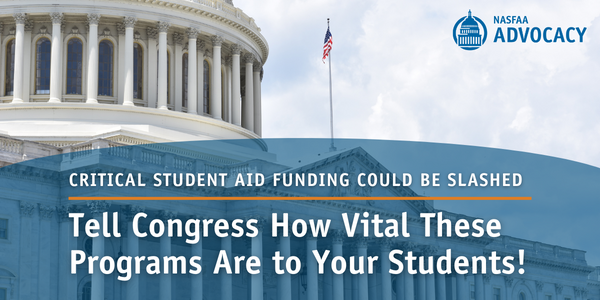 Thank you for your willingness to participate in NASFAA's Advocacy Campaign to protect student aid funding. This page features resources to assist you in your outreach, including:
Background
On July 13, 2023, the House Labor, Health and Human Services, Education, and Related Agencies (Labor-H) Appropriations Subcommittee released its budget proposal for fiscal year (FY) 2024. The full committee is expected to review the bill as early as July 27, 2023. The bill calls for significant cuts to federal student aid programs that support millions of students across the nation. The proposal called for:
Eliminating the Federal Work-Study (FWS) program.
Eliminating the Federal Supplemental Educational Opportunity Grant (FSEOG) program.
Flat-funding the maximum Pell Grant for the 2024-25 award year.
Decreasing funding for the Office of Federal Student Aid to $1.77 billion (a 13% cut).
An overall reduction of 28% in funding for the Department of Education (ED).
As Congress considers FY 2024 appropriations, it is critical that your representative hears from you about how these cuts will impact your students.
How to Contact your Representative
If you're not sure who your representative is, visit the House of Representatives search page. This page also includes House office phone numbers and links to contact each representative via email.
Sample Letter Advocating to Protect Student Aid Funding in FY 2024 Appropriations Bill
NASFAA has developed a sample letter that you may wish to use to encourage your representative to support funding for crucial student aid programs in the 2024 appropriations bills.
We encourage you to customize this letter by including the number of recipients and total amount of funding awarded in your district for each program. You can find data by selecting your state, then "2022 - 2023 By Congressional Districts."
View Federal Student Aid Data in your Congressional District
Talking Points Advocating to Protect Federal Student Aid in FY 2024 Appropriations
The bill calls for $57.1 billion to ED, a 28% reduction from the fiscal 2023 enacted level.
The bill keeps the maximum Pell Grant award at $7,395 for 2024-25, the first time in over a decade that the Pell Grant would not see an increase.
The budget request eliminates funding for FWS and FSEOG.

The FWS program provides $1.2 billion to 659,000 students.
The FSEOG program provides $910 million to almost 1.7 million students.

Underrepresented and historically marginalized students were among those most impacted by the COVID-19 pandemic, and these federal student aid programs work in tandem to ensure they have an equitable and affordable pathway to higher education.
We understand that some NASFAA members are not able to participate in our advocacy efforts for a number of reasons, including institutional policies around employee involvement in direct advocacy. We encourage you to connect with the office at your institution that handles government relations to determine if you are able to help with this effort.