MVP Clantha McCurdy

MVP: Most Valuable Professional is a new series highlighting the insights and achievements of different NASFAA members. Do you know a financial aid colleague with something interesting to say? Send the names of potential future MVPs to news@nasfaa.org.  
Dr. Clantha McCurdy
Senior Deputy Commissioner for the Massachusetts Board of Higher Education Office of Student Financial Assistance (Revere, MA)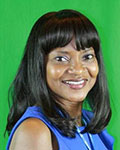 Meet Clantha McCurdy! Clantha, senior deputy commissioner for the Massachusetts Department of Higher Education, began her financial aid career in May 1978 as an Assistant Director at the University of Kansas- Office of Student Financial Aid. She recently served as the Chair of the Conference Committee for the 2013 NASFAA Conference in Las Vegas.
 
The best advice I ever got was… 
"It is better to give than to receive" and "Always treat others in the manner in which you wish/expect to be treated". These two principles have guided my life and the manner in which I approach my work and people in general.
If I weren't working in financial aid, I'd probably... 
Be working in an on-campus Counseling Center or some other professional counseling facility. 
Favorite movies/TV shows are… 
The Godfather I & II, the Lord of the Rings Trilogy, Shawshank Redemption, Game of Thrones, Copper, Ray Donovan, Homeland, and of course Scandal.  
My greatest accomplishment... 
Outside of my achievements within the financial aid profession, my greatest level of success has been in education attainment. I have earned a total of five degrees, which includes a doctorate in Higher Education Policy, Leadership and Administration.
If I could take an all expenses paid vacation somewhere, I would go to... 
Vienna, Austria. With a passion and love for classical music, I would very much enjoy a visit to the place that was considered the center of music innovations and capital of classical music.
My most motivating financial aid experience has been… 
Attending the graduation of students that I've mentored or assisted, especially those who had to overcome many challenges to achieve their degree. Knowing that I played a role in the success of so many students is definitely rewarding.
Want to say hello to Clantha or reply to something she said? Please leave your remarks in the comments sections, below!
Publication Date: 8/28/2013
---