Partners in Policy: New America
By Brittany Hackett, Communications Staff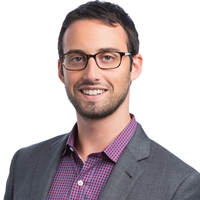 Welcome to NASFAA's Partners in Policy, an occasional series in which we profile colleagues at the associations, foundations, and think tanks that NASFAA works with to advance higher education and financial aid policies. In this installment, we profile Alexander Holt with New America.
In Washington, D.C., it is not uncommon for large think tanks to offer up ideas and opinions on how to solve the country's problems. As a well known think tank in D.C., New America, according to its website, prides itself on "big ideas, impartial analysis, pragmatic policy solutions, technological innovation, next generation politics, and creative engagement with broad audiences." There is no one voice that speaks for the organization, rather it is an organization made up of numerous autonomous programs that produce their own original research and policy analysis.
The Education Policy Program at New America looks for policy solutions to the education problems in the U.S., including issues facing higher education, and Policy Analyst Alexander Holt is one of the many voices within that program.
Because New America encourages multiple voices and viewpoints, Holt is able to "write something with which anyone else in the program disagrees," creating what he calls an "intellectually intense environment" that helps those at New America "more effectively speak with policymakers across the ideological spectrum, since we do it every day in the office."
"It makes for interesting meetings, but I also think it pushes each of us individually to think more critically and creatively about higher education policy," he said, adding that "there have been many times where my own colleagues have shown why my logic or opinion is flawed."
Higher education is "appealing from a policy perspective" because of its size and scope, Holt said, adding that it is "a big expenditure in the federal budget, which means it has big effects on how higher education is financed and run in the country." Since joining New America nearly four years ago, Holt has spent his time working on higher education finance and economics, studying the federal student loan program and focusing specifically, since the summer of 2012, on income-based repayment (IBR).
One goal of his research and policy work, Holt said, is to "make a more coherent student financial aid system."
"I think that policymakers have piled on program after program over the years, and it's confusing to students and burdensome to everyone involved," Holt said. Instead, financial aid programs "should be fair and most beneficial and supportive to those who are most in need of the limited amount of public funds available," he said.
Working with NASFAA on policy efforts like the Bill & Melinda Gates Foundation's Reimagining Aid Design and Delivery projects gives Holt and his colleagues the opportunity to learn about the role financial aid administrators play in the aid process, as well as their technical expertise. One of the most helpful things to come out of his experience working with NASFAA and financial aid administrators, he said, "is learning why something doesn't work."
"Even if I've read all of the federal regulations and analyzed student loan data, I still don't know what it's like on the ground at the schools giving out the money and advising students," Holt said. "Working at a think tank, it's easy to be removed from the world where these policies get implemented, and so any reality check is always appreciated."
As for what changes he would like to see in federal student aid, Holt said he would eliminate interest rates and enroll all borrowers in a simplified, automatic IBR plan coupled with employer withholding. During focus groups conducted earlier this year, New America researchers heard from many borrowers struggling to repay their loans, many of whom said the same thing – it is too easy to take out a loan on the frontend, and too easy to not repay that money on the backend. IBR "could help a lot of people but the program is complicated and difficult to understand," Holt said.
In addition, Holt said he would institute a high surcharge on each loan so a student "would know the true cost of the loan … right from the start, and would also know how much [he or she] would owe on a monthly basis at different income levels." Such a system "is more progressive, fair, and simple compared to the current system," Holt said.
Publication Date: 12/9/2015
---