NASFAA Members Talk Perkins, PSLF, Pell
By Joelle Fredman, Communications Staff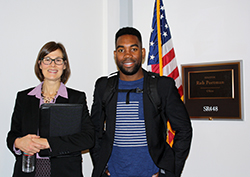 NASFAA members from Ohio and Connecticut institutions met with congressional staff members on Capitol Hill Thursday to push lawmakers to extend the Perkins Loan program, increase the maximum Pell Grant award, support the Public Student Loan Forgiveness (PSLF) program, and discuss other financial aid priorities for the reauthorization of the Higher Education Act.
The members – Susan Kannenwischer of Capital University, and David Blackmon of Yale University – met with staffers from several congressional offices on both sides of the aisle.
During their meetings they emphasized that the expiration of the Perkins Loan program is extremely harmful for their students.
Blackmon, who works with the graduate population, said that his students face a difficult situation because their only other options for aid are higher interest rate Grad PLUS Loans or alternative loans.
"For us, Perkins is that one need-based piece of aid that we can offer students," Blackmon said. "Not having Perkins will hit us really hard."
Kannenwischer said this is especially devastating for adult degree earners.
"Adults are limited by what they can borrow based on what they have borrowed in the past and we can use Perkins to help them," Kannenwischer said. "There will be a gap now—I will have less tools in my toolbox."
Members also discussed the importance of the Senate bill's proposal to increase the Pell Grant program's maximum value by $100. Kannenwischer said the program should reflect the inflationary costs of tuition.
"Pell needs to keep up with increasing costs," Kannenwischer said. "If the grant does not go up, there absolutely will be increased cost for the students."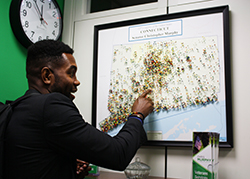 The members also talked about the importance of the PSLF program, which was created to incentivize students to work in the public sector by promising to forgive their loans after 10 years.
"If we cut PSLF we are going to see a huge dip in the amount of students that want to participate in these roles," Blackmon said. "We should help the people who are making this serious commitment."
The members said the opportunity to meet with staffers on Capitol Hill was an honor.
"I think it's vital to have a seat at the table," Blackmon said. "The Advocacy Pipeline gives us that."
For more pictures from the event, check out NASFAA's Advocacy Pipeline Facebook album. If you're interested in volunteering to be a part of NASFAA's Advocacy Pipeline, fill out an interest form here.
Publication Date: 11/13/2017
---