MVP Sharon Oliver

MVP: Most Valuable Professional is an occasional series that features a brief Q&A with a different NASFAA member. Do you know a financial aid colleague with something interesting to say? Send the names of potential future MVPs and a short note about why you're nominating them to [email protected].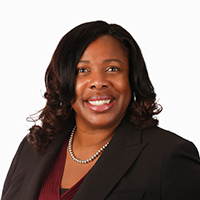 Sharon Oliver
Director of Scholarships and Student Aid
North Carolina Central University

Meet Sharon Oliver, FAAC®, the director of scholarships and student financial aid at North Carolina Central University. Sharon has worked in financial aid for more than 30 years, getting her start as a work-study student in the Office of the Vice President for Student Affairs during her four years at South Carolina State University.
"This job laid the foundation for future positions I would hold in higher education," she said. "Not only did it provide work experience and income, but it also taught me strong work ethics that I value today."
Sharon began her professional career in financial aid at Shaw University, a private college located in Raleigh, North Carolina. After four years there, she moved to North Carolina Central University and has been there for more than 25 years, working her way up to her current role.
As a graduate of South Carolina State University, a historically Black college and university (HBCU), Sharon said she gets fulfillment and satisfaction by working at North Carolina Central University, another HBCU, allowing her to give guidance to students who share a similar background as her. She said she is passionate about creating and implementing strategies to streamline the financial aid process to make it easier for first-generation and low-income students and families to better understand how to navigate the sometimes complex processes associated with enrolling in higher education and receiving financial aid.
Sharon is a very active member of the North Carolina Association of Student Financial Aid Administrators (NCASFAA) and the Southern Association of Student Financial Aid Administrators (SASFAA). She was previously a president of SASFAA and currently serves as the treasurer of NCASFAA, as well as being a presenter for the fall and spring NCASFAA conferences. Sharon also currently serves on NASFAA's board of directors as a representative-at-large.
"I am able to show my gratitude and appreciation by giving back to the associations that lifted me up when I needed it the most," Sharon said. "Over the years, I continue to contribute my time and experience to teach others and support the associations that invested in me."
How have you experienced innovation in your career in financial aid?

Technology has served as the driving force to innovatively advance the financial aid profession by eliminating paper and adopting electronic tools to meet the demands of today's students. Students are technologically savvy and use electronic devices to conduct business. As a result, our office offers cutting-edge technology such as electronic forms for all aspects of financial aid, including verification and award offers.
What do you find the most rewarding and fulfilling about your work?
Commencement continues to be my greatest rewarding moment, watching students cross the finish line and earning their degrees knowing the impact that our office contributed to making their dreams become a reality.
Is there anything in particular about the financial aid system that you wish you could change?
I wish I could change the annual FAFSA application requirement to a one-time only application with a five-year expiration date. I would also eliminate verification and offer free tuition and fees up to $10,000 annually to all undergraduate students. As you can see, there are actually a few things I would change.
What's something you wish all higher ed folks knew about financial aid?
First, financial aid administrators are the secret sauce for recruitment, retention, and graduation. Second, providing adequate resources for staffing, outreach, and technology in the financial aid office has a long-term positive impact for the institution. It is often difficult to see the true value of financial aid administrators because it is hidden in the numerous federal and state regulatory requirements. These regulatory requirements often require financial aid administrators to respond negatively with a response of "no" in order to adhere to policy and remain in compliance.
What's one thing you couldn't live without?
On a professional level, the one thing that I can't live without is NASFAA's Today's News. It serves as my morning cup of coffee, and I'm not even a coffee drinker. It helps to shape my day and keeps me informed immediately of all important aspects of financial aid.
What are you optimistic about in financial aid in the upcoming year or so?
I am optimistic about Double Pell, FAFSA simplification, and loan forgiveness. These are promising opportunities to change the landscape of federal student aid that would be extremely beneficial to students.
Anything you've learned in the last year, or a new hobby you've picked up?
In the last year, I have learned how to appreciate the simple things of life, like Mother Nature on my daily meditation walk. The bright sunshine, chirping birds, and beautiful flowers set the tone for my day and empower me with the calmness and serenity that allows me to have a peaceful day.
What's your idea of a perfect day?
A perfect day would be putting a smile on someone's face and making their day brighter. Often, I don't know the struggles our students and families are experiencing, but a friendly call from a financial aid administrator can make a difference. I prefer to speak with families when addressing unique situations, which provides an opportunity to demonstrate care — and I can obtain a clearer understanding of the situation.
What is a goal you've set for yourself for the upcoming year?
This year, my goal is to implement a tool to quickly address student inquiries, such as a chatbot feature.
If you could live anywhere, where would it be?
I would return to my home state of South Carolina. I would love to live in Hilton Head or Santee on a waterfront property, so that I can listen to the waves and enjoy the beach every day. I'm not a swimmer, but I really enjoy reading and relaxing beachside.
Want to say hello to Sharon or reply to something he said? Please leave your remarks in the comments section below. You can also take a look back at our past MVPs to read any you missed the first time around.
----

Do you know a financial aid colleague with something interesting to say? Send the names of potential future MVPs and a short note about why you're nominating them to [email protected].
Publication Date: 6/21/2022
---