July State & Regional Association Updates
By Maria Carrasco, NASFAA Staff Reporter
In this monthly round-up in Today's News, we would like to highlight what is going on in your state and regional financial aid administrator associations.
This month, we have the opportunity to hear from our colleagues from New York, Massachusetts, Texas, Michigan, Illinois, Wisconsin, WASFAA, and EASFAA.
Patricia Donahue, president of NYSFAAA (New York), shares that over 100 new financial aid administrators attended the NYSFAAA Novice 2023 Training Workshop last month at Mercy College. In addition to the attendees from across New York, there were also attendees from Florida, Texas, New Jersey, Connecticut, Massachusetts, and Vermont institutions. "We thank our co-chairs, small and large group leaders, and technical support members for all their efforts to make the workshop a success," Patricia writes.
Jillian Glaze, president of MASFAA (Massachusetts), shares that MASFAA had its Year End Celebration on June 7. Several members received awards, including Natacha Munoz, who received the Volunteer of the Year Award; Sarah Bergeron, James McGehee, and Jennifer Bento-Pinyoun, who received the Presidential Award for their significant contributions to MASFAA over the past several years. The association is now planning its annual conference, which will be held November 15-17 at the Westin in Waltham, Massachusetts. "With so many critical changes, we are looking forward to a packed agenda this year," Jillian writes.
Dede Gonzales, president of TASFAA (Texas), shares that registration for the 2023 SWASFAA & TASFAA Fall Conference is open on the TASFAA website. The fall conference will offer sessions on FAFSA simplification, leadership, customer service, loans, compliance, financial literacy, and more. The conference will take place at the Hyatt Regency DFW International Airport from October 4-6, 2023. Attendees can register early for the best conference rate.
Steven Foster, past president of MSFAA (Michigan), shares that the association hosted its annual conference and 55th anniversary celebration May 21-24 Thompsonville, Michigan. The conference theme was: "Reflecting on our past, celebrating the present, and shaping our future together." The association invited past presidents to engage in the 55th anniversary celebration and "recognize them for their visionary efforts in paving the way to bring MSFAA to where it is today," Steven writes.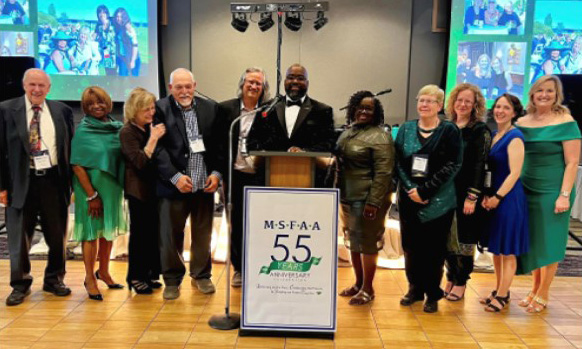 The association honored: Will Shaffner with the Lifetime Achievement Award; Kristi Welling with the Henry Dykema Distinguished Service Award; Jenny LaPratt with the President's Award; Shashanta James with the Anne Watson Excellence in Mentorship Award; and Michael Jones, Elizabeth Preston, Diann Cosme, Julia Delagarza, Nikki Thomas, and Tom Dryer with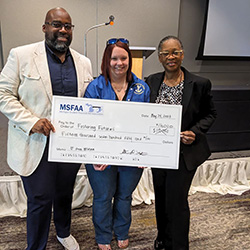 the Special Achievement Award.
Additionally, Steven writes that MSFAA made history and adopted its first diversity statement, established a standing diversity, equity, and inclusion committee, and raised $16,000 for its charity, Fostering Futures. In the past five years, MSFAA has raised over $50,000 for Fostering Futures.
Danette Burgess, president of EASFAA, shares that the EASFAA Regional Council had its Board Retreat for 2023-24 in Alexandria, Virginia. Prior to the retreat, EASFAA had its conference in Manchester, New Hampshire. "We want to thank the EASFAA Conference Committee for such a great job and conference," Danette says.
She adds that EASFAA is now preparing for the EASFAA 2024 Conference that will take place in Wilmington, Delaware. "We look forward to the upcoming year with all the great webinars and training that will be held by our EASFAA committees and states," Danette writes. She also gave a shout-out to two successful EASFAA state events in June — NYSFAAA's Novice Training Workshop and Vermont's Annual Conference.
Elyse Weller, president of ILASFAA (Illinois), shares that the 2024 ILASFAA Conference will be held on March 4-6, 2024, at the Double Tree by Hilton in Bloomington, Illinois.
Amanda Cornelius, president of WASFAA, shares that WASFAA's annual conference was held in Tacoma, Washington, in April. Several members received recognition, including: Zoe Rae and Molly Walsh, who received the New Volunteer Award; Aurie Clifford and Daniel Carlos, who received the Meritorious Achievement Award; Shawn Domingo and Ashley Coleman, who received the Distinguished Service Award; Janine Oyama and Sandi Guidry, who received the President's Award; and the State Presidents' Committee, which received the Committee of the Year Award.
Additionally, Amanda shares that the Sister Dale Brown Summer Institute, held at Gonzaga University in Spokane, Washington, was a "huge success with a fun Wizard of Oz theme." She notes that this year's committee, chaired by Ashley Munro, "did a fantastic job."
Mandy Slowinski, president of WASFAA (Wisconsin), shares that the Legislative Initiatives and Advocacy Committee continues to work with Wisconsin state legislators to introduce a financial aid modernization bill that will "make a number of changes and updates to Wisconsin statutes related to financial aid."
Check back next month to see what your colleagues are doing across the country, and check out your colleagues' updates from previous months!
Publication Date: 7/11/2023
---