Report: Graduate Loans Could Soon Comprise the Majority of Federal Student Loan Portfolio
By Maria Carrasco, NASFAA Staff Reporter
A new report from the Department of Education (ED) examined trends of graduate student loan borrowing, noting that, if the current trajectory continues, graduate student loans could soon be a majority of the entire federal student loan portfolio.
The report from ED's Office of the Chief Economist, published earlier this month, looked at trends in graduate borrowing over the past several decades, including increases in graduate borrowing, graduate degree attainment, and future earnings that have concerningly stagnated in recent years.
The report detailed the opposing paths of undergraduate and graduate student loan disbursements. While total undergraduate disbursement of federal student loans dropped from $80 billion to $45 billion between 2010 and 2021, graduate student loan disbursements have held steady at about $40 billion.
ED stated that if this trend continues, "graduate loan disbursements may exceed undergraduate disbursements in the next few years."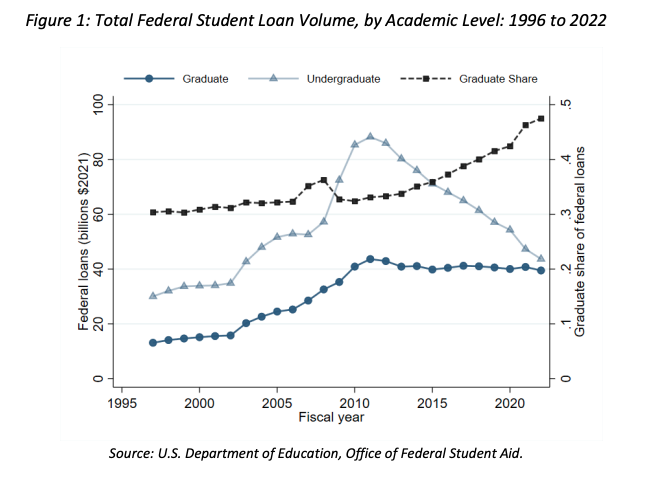 Although graduate borrowers only account for 21% of all borrowers, graduate loans may soon make up a majority of the federal student loan portfolio because more people are pursuing advanced degrees. The report noted that the share of the population with both master's and doctoral degrees began growing more rapidly around the Great Recession in 2008 and the introduction of the Grad PLUS loan program for graduate and professional students in 2007.
The report found that increases in graduate degree attainment have been driven by women, particularly over the last 30 years. Specifically, the divergence in growth rates between men and women's attainment starts around 2009-10 for Black and Hispanic women.
It's not just the number of graduate borrowers driving the increase — the amount they're borrowing is also going up. The average amount of graduate student loan debt taken on by students jumped from $43,703 in 2004 to $61,390 in 2016 (in real 2020 dollars).
Individual borrowers are also increasingly likely to take out larger loans, the report noted. The share of graduate school completers who borrowed between $40,000 and $60,000 increased from 4.7% to 9.5% between 2004 and 2016. During that same time, the share who borrowed more than $80,000 in graduate student loans increased from 1.4% to 10.8%.
And while borrowing for graduate school has increased, the average earnings premium for those advanced degrees has slowed. For example, the premium to a master's degree compared to the earnings of a high school graduate hovered between 55% and 63% between 1992 and 2021.
"This suggests that the net returns of graduate degrees may have fallen over the past 20 years, but further analysis of policy driven changes to the costs of student loans to graduate students and out-of-pocket payments is necessary," the report stated.
The report added that earnings and borrowing outcomes for graduate degree earners differ "dramatically" across programs and across higher education sectors. Generally, median earnings for those who earned advanced degrees at public institutions or private nonprofit institutions outpaced those from for-profit institutions across sectors and credential levels.
Among a list of programs with high debt burdens, private for-profit professional programs ranked highest at 44%, followed by private nonprofit professional programs at 39%, private nonprofit doctoral programs at 31%, and private for-profit doctoral programs at 29%.
That's important to note as the report found that Black students disproportionately attended graduate programs at for-profit institutions. Black graduate enrollment increased by 79% between 2004-12, with over half of this increase accounted for by enrollment in for-profit institutions. The report noted that these trends are significant since debt and earnings outcomes "contribute to disparities in borrower outcomes by race and ethnicity."
ED concludes the report by noting that the Biden administration has taken several steps to "address the strain" of graduate student loan debt, and as an example cited fixes to the Public Service Loan Forgiveness (PSLF) program. Additionally, the report points to ED's updated College Scorecard and upcoming final rules on gainful employment as other solutions to address issues about graduate school affordability.
"Graduate education plays a critical role in developing advanced skills which in turn contribute to art, culture, and science in profound ways that improve our economy and society," the report stated. "To ensure that the pathways to these opportunities for higher learning remain open and safe for all to travel, it is important to ensure that students financing the often-exorbitant costs of these credentials do not end up with debts that are overly difficult to repay, or that harm their financial health."
Publication Date: 8/17/2023
---