Janette's Journal: 'I Want to Talk About What I Have Learned'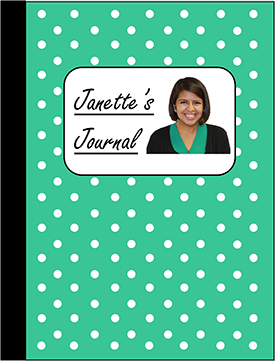 It honestly feels like just yesterday I walked through the NASFAA offices for the first time as the DME intern, so I can't believe that I am writing my final blog post. I have enjoyed writing these and sharing the amazing opportunities I've had this summer thanks to your support of the DME Policy Intern program. Before I get to my final reflections, I'll share what I've been up to in my final week at NASFAA.
Last Thursday and Friday, I attended the Postsecondary National Policy Institute's Federal Student Aid Boot Camp. I've mentioned some of the pre-readings I had to do, but the actual seminar exceeded my high expectations. On the first day, we learned about the Pell Grant, federal student loans, the FAFSA, and the impact of federal student aid. The sessions were set up as a short presentation at the beginning followed by about 45 minutes of questions. I really liked that setup because it allowed everyone in the room to gain something from the session. There were attendees who were just starting in higher education and financial aid policy while others had worked in higher education (or a financial aid organization all summer) for a while, so we were able to ask questions that dig deeper into the topics and pick the brains of experts.
On the second day, we covered student debt and default, federal student loan repayment programs, and the federal budget. Two issues I heard in almost every presentation were the need for better data and how to simplify without over simplifying: how can we purposefully simplify the FAFSA? How do we simplify repayment in a way that helps borrowers? If only we had better data so we could look into this! During lunch, we broke out into smaller groups and heard from people working in student aid policy at foundations, law firms, think tanks, Capitol Hill, and the Department of Education. I learned so much about different career paths and different ways you can impact policy, even if you're not in the government. It was a very fulfilling two days, and I am so glad I had the opportunity to participate.
On Friday morning, a friend asked me if I wanted to go bowling with her on Saturday morning… at the White House Bowling Alley! Well, the bowling alley is actually located underneath the Eisenhower Executive Office Building (EEOB), right next door the the White House, but it's still on the White House grounds. It's pretty cool because you do walk right by the West Wing to get in. Afterwards, the friend who invited me took our group on a tour of the EEOB which I hadn't done yet! It's a beautiful building filled with lots of history. A childhood friend was visiting DC for the first time, so I'm sure she enjoyed this experience!
As George Washington says in "Hamilton" as he's about to resign, I too "want to talk about what I have learned, the hard-won wisdom I have earned." I can't say thank you enough for the opportunity to work with NASFAA this summer. The DME Internship is such a unique experience, a great way to learn about financial aid policy, and is cultivating the next generation of student aid advocates. Before starting at NASFAA, I was still unsure if I wanted to work in higher education or K-12 policy. After spending a summer focused student aid policy, I've realized there is so much work to do in higher education and I've become passionate about this work. I feel more confident in my knowledge now, and I know what I've learned here will be useful in whatever higher education work I pursue. One thing I particularly enjoyed was learning about advocacy and watching it in action. I've focused a lot on policy ideas over the past year, but this summer, I watched as the NASFAA policy team advocated for policies that help students. NASFAA is always working on new ideas and sharing those ideas with lawmakers, but they're also always ready to respond to issues as they arise. I've seen a lot of this around the implementation of PPY, from the engagement with members around this issue at the conference to the quick responses to Undersecretary Mitchell's letter around priority deadlines. The advocacy I've seen here at NASFAA will stick, and I know as I look for future jobs, I would like advocacy to be an important component of the work I do.
Over the next year, I'll be finishing up my program at George Washington University. I graduate in May, which feels really far away but I know will be here before I know it! I I will definitely be busy next year. I will also continue my higher education policy internships and will start at Excelencia! In Education at the end of the month. I'm excited for the opportunity to learn more about strategies that help Latino students succeed in higher education. Although I have an idea of what I want to do when I graduate (work on policy related to and advocate for students, especially first-generation, low-income, students of color), I'm still not sure exactly where and how I want to do that. But, who knows what will be available in May? A year ago, I wouldn't have predicted that I would be working at a financial aid association or even in higher education policy in general! I'm letting myself be open to opportunities because it's worked out pretty well for me so far. I just know I want to continue to work in education because I still believe it can be the great equalizer.
In the musical "Hamilton," Alexander Hamilton reflects on his life and says, "America, you great unfinished symphony, you sent for me. You let me make a difference, a place where even orphan immigrants can leave their fingerprints and rise up." Education allowed him to make a difference, it's allowed me to be where I am today, and I want to make sure that those opportunities exist for a very, very long time.
Janette
----
If you missed Janette's previous blog posts, check them out now.
Publication Date: 8/12/2016
---