Learning Objectives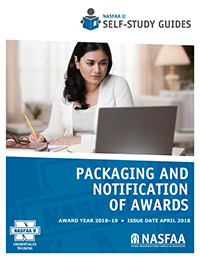 Lesson 1: Introduction
Understand the definition of packaging financial aid awards; and
Know the foundational principles and guidelines of packaging.
Lesson 2: Packaging Guidelines
Understand the general guidelines for packaging;
Know about packaging categories; and
Recognize calendar terms and key concepts related to packaging.
Lesson 3: Packaging Models and Processes
The six basic packaging models used to award students with student financial aid, including Title IV federal student aid, state aid, institutional aid, private aid, and other forms of estimate financial assistance; and
How to use packaging processes that meet the institution's policies for awarding student aid.
Lesson 4: Overawards, Appeals, and Award Notifications
The concept of overawards and how to prevent and resolve them;
Award appeals policies and procedures; and
Award notification requirements and options.