The National Student Financial Aid Council — the precursor to NASFAA — was formed 53 years ago on October 24, 1966. Our organization was founded, just after the Higher Education Act of 1965 was signed into law, because financial aid administrators understood that access to higher education has the ability to change people's lives for the better and recognized the need for an entity to aid in those efforts.
NASFAA's operations and influence have grown and expanded over the years, largely due to the passion and commitment of financial aid administrators like you. What hasn't changed is our commitment to the students we serve. Each year practicing financial aid administrators guide our efforts, set out strategic plans, and partner with NASFAA staff to fulfill our vision to shape the future by promoting access and success.
In 2018-19, more than 340 volunteers — 110 of whom were first-time volunteers — moved us one step closer to realizing that vision. In honor of our founding, we celebrate you, our members.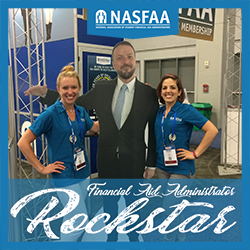 Here are some ways to join the celebration:
Check out our list of "10 Reasons Why NASFAA Members Are Awesome"
Update your Facebook profile picture to include the "Financial Aid Administrator Rockstar" frame we created just for you!


Select our custom frame from the menu by searching for "Financial Aid Rockstar".
Select "Use as Profile Picture" to save the frame.

Read through our recent Member Spotlight articles. These stories feature initiatives that our members have pursued that exceed the traditional scope of responsibilities of a financial aid office. If your university or financial aid office has taken on a project or unique efforts to help students, please reach out to us at news@nasfaa.org
We want to wish a congratulations to our NASFAA Member Appreciation Day contest winners! To enter, members liked our Member Appreciation Day contest post on Instagram, Facebook, or Twitter and tagged two financial aid professionals who inspire them. Congratulations to our three winners — Sarah Baumhoff of Kennesaw State University, Tony Tanking of Benedictine College, and Elena Ballesteros of Rio Salado College — who will each receive a pizza party for their office and a complimentary NASFAA U course or webinar of their choosing.
Thank you for all that you do today, and every day, to help open doors to educational opportunity for students around the country.