NASFAA Mourns the Passing of 1982-83 National Chair Lola Finch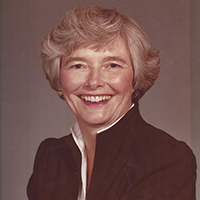 It is with great sadness we announce the passing of past national chair and friend Lola J. Finch.
Lola first began working at Washington State University (WSU) in 1967 as a financial aid counselor. During her time at WSU, she rose through the ranks and went on to hold a number of positions in the financial aid office. Prior to her retirement in 1995, Lola served as the director of student financial aid and scholarships at WSU, where she is credited with having "helped develop WSU's financial aid program into one of the nation's finest programs of its type," according to Washington State Magazine.
Over the course of her career in financial aid she served a three-year term with the U.S. Office of Education's Advisory Council of Financial Aid to Students, and one-year terms as the 1982-83 NASFAA national chair and president of the Washington Financial Aid Association (WFAA).
Ever a champion of higher education, Lola was a donor to the Dallas Martin Fund for Education and received several prestigious awards, including the WASFAA Regional Leadership award in 1991 and the Robert P. Huff Golden Quill Award in 1995 for her work on NASFAA's Task Force on Institutional Leadership. In 2004, NASFAA bestowed upon Lola its Lifetime Achievement Award (then called the Lifetime Membership Award), the highest honor that NASFAA awards which recognizes individuals who have made outstanding and significant contributions to the profession and field of financial aid.
NASFAA is grateful for the impact Lola has had on the financial aid community as a whole. Our sincerest condolences and best wishes go out to Lola's family and friends. We will update this article with information about arrangements as they become available.
Publication Date: 11/9/2017
---