Published in April 2019 for the 2019-20 program year.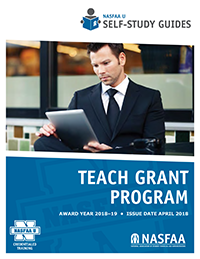 This self-study guide introduces learners to the Teacher Education Assistance for College and Higher Education (TEACH) Grant Program, including institutional and student eligibility, awarding funds, the Agreement to Serve, and counseling requirements. The guide includes quizzes, reflection questions, and learning activities which reinforce the content presented. Completion of this guide qualifies an individual to take the credential test on the TEACH Grant Program.
Available as a PDF only.
Learning Objectives
Lesson 1: Introduction to TEACH Grant Program
Understand the purpose of the TEACH Grant Program; and
Be able to make institutional and academic program eligibility determinations required under the TEACH Grant Program.
Lesson 2: Awarding TEACH Grants
Understand who is eligible to receive a TEACH Grant;
Understand the calculation of TEACH Grant awards; and
Understand when recalculations are required and optional.
Lesson 3: Agreement to Serve and Counseling Requirements
Understand the teaching obligation which comes with receiving a TEACH Grant;
Recognize the elements of the Agreement to Serve; and
Understand the TEACH Grant counseling requirements.